by Richard Adams, Ramboll, UK
News from CIGRE Study Committee B5 Protection and Automation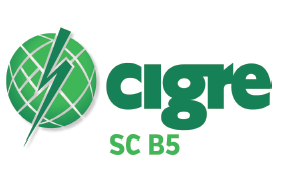 A special Virtual Centennial Session was held between 18th and 27th August. To provide a more interactive and immersive experience for the audience and participants, the Session was broadcast professionally from a suite of five state-of-the art broadcasting studios in the Palais des Congres. Study Committee Chairs, Secretaries and Special Reporters that were able to travel to Paris led the discussions from the studios, supported remotely by those that were unable to attend physically and an on-site team managing the broadcasts.
The whole of the program was recorded, and registered delegates can still log in and catch up with sessions which they may have missed live and watch sessions up until the end of this year, something not normally possible after a session. Additionally, anyone that did not register prior to the event can still register and watch the recordings before the year end at https://session.cigre.org/
For B5, the Technical Discussion Meeting took place on 24/25th August and the preferential subjects were:
PS 1 Human Aspects in Protection, Automation and Control Systems (PACS)
PS 2 Communications Networks in Protection, Automation and Control Systems (PACS): Experience and Challenges
On the afternoon of Thursday 26th, B5 hosted a live tutorial on the subject of "Protection, Automation and Control of the Evolving Grid"
The annual study committee B5 meeting was also held virtually over two mornings on 26th and 27th August and was very well attended considering that it was very early morning for some and late evening for other members. Four new working groups were decided as follows:
PACS design for reliability
Requirements for IT and OT managed PACS
Protection Roadmap for Low Inertia and Low Fault Current Networks
New requirements of network protection & control for renewable energy integration
The terms of reference will now be finalized prior to them commencing work.
The CIGRE Symposium in Ljubljana, Slovenia will be held 21 – 24 November 2021 as a hybrid event. The theme is 'Reshaping the Electric Power System Infrastructure' and Rannveig Løken, Chair of SC B5, is Chair of the Technical and Scientific Committee and a member of the Steering Committee.
Registration is open now. The event website is: https://cigre-symposium2021-ljubljana.si/
The latest Technical brochure (843) entitled "Life Cycle Testing of Synchrophasor Based Systems used for Protection, Monitoring and Control" has been published. This Technical Brochure examines how synchrophasor systems are critical for future power system monitoring, control and protection.
Their deployment requires careful consideration of life cycle testing to assure the required system performance.
The first testing step needed includes product evaluation before purchase to assure compliance with industry standards. The commissioning test, in service periodic test and troubleshooting tests are the next steps need to confirm that the system is deployed correctly, upgrades compatibility is verified, and system maloperations are detected and rectified. The testing steps include both device and end-to-end system evaluation
The brochure can be downloaded free of charge by CIGRE members from the e-Cigre web site and can be purchased by non-members. Progress to complete other longstanding Working Groups remains good, with Working Group B5.52 (Analysis and Comparison of Fault Location Systems in AC Power Networks) expected to publish their work before the year end.
Biography:

Richard Adams is Team Leader – Engineering with PSC in UK. He has a degree in Electronic and Electrical Engineering, is a Fellow of The Institution of Engineering and Technology (FIET) and a member of the organizing committee for the IET DPSP (Developments in Power System Protection) conference. He is currently Secretary for CIGRE Study Committee B5, having been involved in CIGRE since 2003, initially as UK Regular Member, then later as a member of the Strategic Advisory Group. In 2020 he was awarded the CIGRE Distinguished Member award. Richard is married with three children and likes to get out walking if there's time.