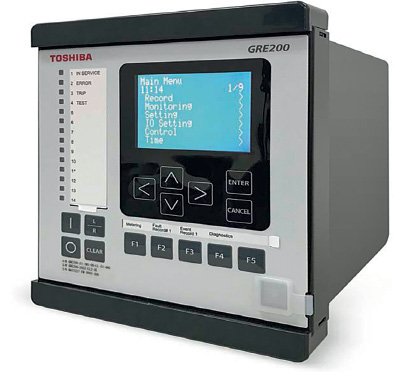 Toshiba announces the launch of GRE200, a new multi-function protection and control device covering a wide range of applications from MV through HV/EHV networks.
Featuring compact size for embedding in MV-Switchgear, draw-out case, feeder management functionality and the capability to provide motor protection and back-up protection for generators and transformers.
GRE200 provides a 21-character 8-line LCD, programmable LEDs, keypad and menu-based operating system. PC access is by direct connection to a front-mounted USB port, or by remote interrogation via a rear-mounted LAN port.
Communication features include Modbus, IEC 61850 Ed.2, PRP, HSR and RSTP. Engineering tool libraries provide applications support.