Analysis of system power outages can help us learn and avoid similar events in the future. If you have information on any blackouts, please e-mail to: editor@pacw.org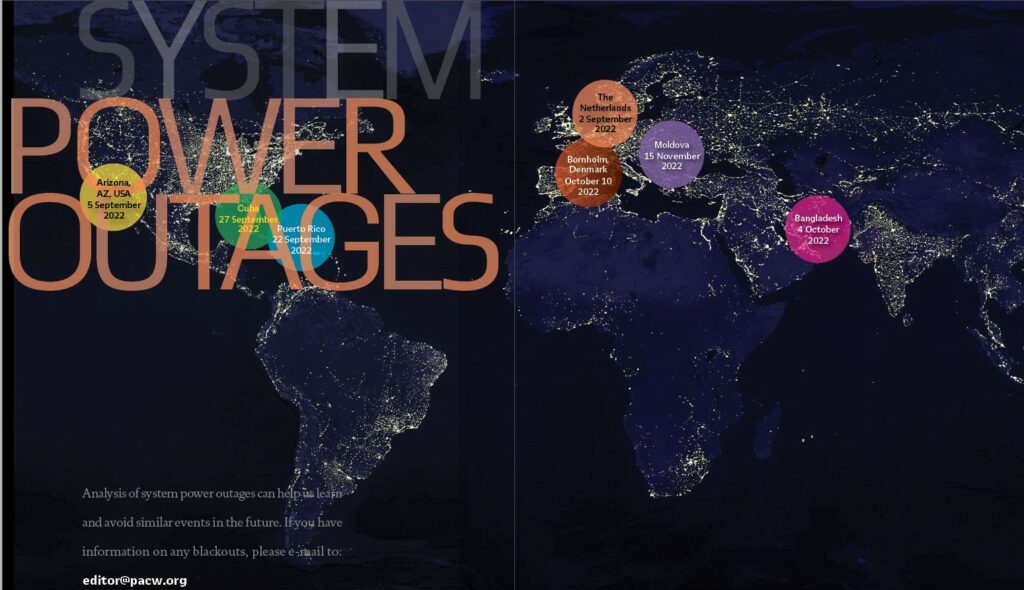 The Netherlands – 2 September 2022: A large part of Flevoland was hit by a power outage which according to grid operator Tennet was caused by a short circuit and a subsequent fire in the high-voltage substation in Lelystad. There was work to connect a new high-voltage substation in Dronten to the power grid. The protection system did not operate, and the fault lasted several minutes causing the line's wires to overheat and sag into the railway line leading to significant disruption of train services.
Arizona, AZ, USA – 5 September 2022: 50 power poles were toppled by a windstorm in Bullhead City, resulting in a blackout for most of its 40,000 residents in this northwestern Arizona city. Wind gusts of 60 mph (97 kph) hit around 6:30 p.m. Sunday.
Puerto Rico – 22 September 2022: After being struck by fierce winds, torrential rainfall, and widespread flooding from Hurricane Fiona, citizens of Puerto Rico experienced significant power outages in mid-September 2022. According to unofficial estimates, roughly 950,000 of Puerto Rico's 1.5 million business and residential customers were without power on the afternoon of September 22. Extreme heat and troubles with water supplies added to the miseries for the people.
Cuba – 27 September 2022: Hurricane Ian knocked out power across all of Cuba and devastated some of the country's most important tobacco farms when it slammed into the island's western tip as a major hurricane Tuesday. Power was initially knocked out to about 1 million people in Cuba's western provinces, but later the entire grid collapsed.
Bangladesh – 4 October 2022: Large parts of Bangladesh were left without electricity on Tuesday after the country's power grid malfunctioned at around 2 p.m., leading to blackouts across 75-80% of the country. Over a third of the country's 77 gas-powered units were short of fuel, government data showed on Tuesday.
Bornholm, Denmark – 10 October 2022: A power outage briefly hit the Danish Baltic Sea Island of Bornholm Monday. Authorities initially said that an underwater cable from Sweden that provides electricity had been cut, but later blamed it on a local fault. The power outage occurred just before 8 a.m and affected the nearly 40,000 resident of the island.
Moldova – 15 November 2022: Moldova temporarily experienced major power outages across the country on Tuesday after Russian military strikes on Ukraine's energy infrastructure downed a key power line that supplies the small nation. The downed power lines were not damaged but were automatically disconnected as a safety measure. Shortly after 6:30 p.m. local time (1630 GMT) that power had been restored in most areas.