Analysis of system power outages can help us learn and avoid similar events in the future. If you have information on any blackouts, please e-mail to: editor@pacw.org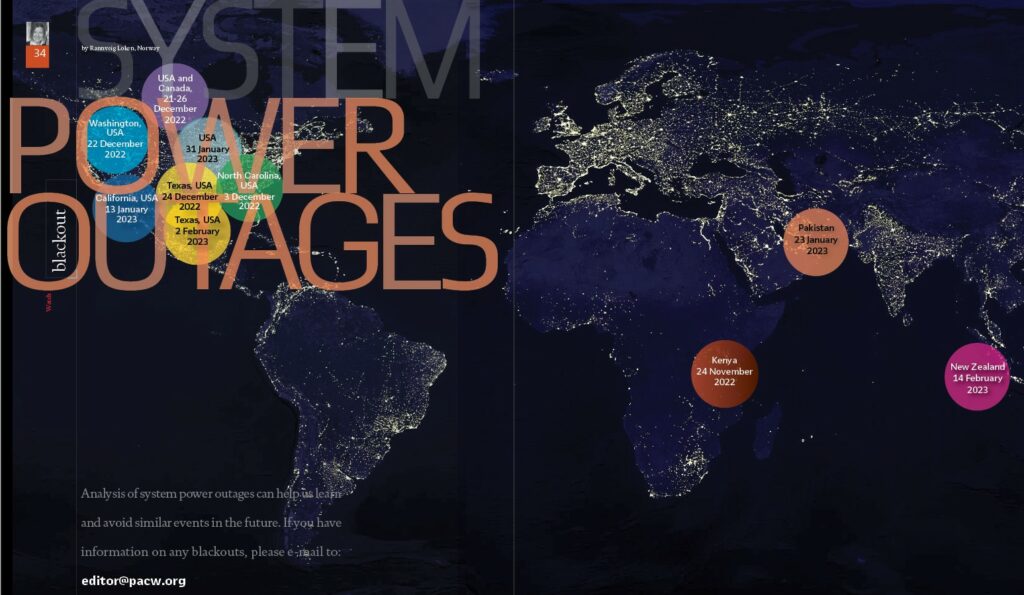 Kenya – 24 November 2022: A power outage affected various parts of the country, including Nairobi and Mombasa. The exact cause of the incident was unclear. Kenya's electricity distributor had restored electricity to some parts of the country affected by the outage and was working to bringing it back to remaining areas caused by the system disturbance.
North Carolina, USA – 3 December 2022: An outage began after one or more people breached the gates and opened fire on a power transformer supplying a 115 kV loop in a 230/115 kV substation in North Carolina. The damage cut power to 45,000 customers, including schools and a hospital.
USA and Canada – 21 – 26 December 2022: Due to Winter Storm Elliott, about 6.3 million households in the U.S. and 1.1 million in Canada were without power for part of the time between December 21 to 26, 2022 (parts of Minnesota, Iowa, Wisconsin, Michigan, Ohio, New York and Ontario, Buffalo area of New York and the Fort Erie and Kingston areas of Ontario).
Texas, USA – 24 December 2022: Over 500,000 homes and businesses were without power in the eastern half of the United States and Texas as winter storms battered much of the country The greatest numbers of outages were in the New England region, with 156,289 customers without power in Maine, followed by New Hampshire, Vermont, Connecticut, Massachusetts, and Rhode Island.
Washington, USA – 25 December 2022: Vandals broke into and damaged four power stations in Pierce County, Washington, leaving thousands in the dark. The men caused the outages using various methods, including manipulating breakers and tampering with switches.
California, USA – 13 January 2023 : More than 400,000 were without electricity in Northern California caused by heavy rains and high winds pummeling drought-stressed land, toppling trees onto power lines, knocking down support poles and blocking access to certain areas.
Pakistan – 23 January 2023: Millions of Pakistanis were left without electricity affecting nearly all parts of the country – from the capital Islamabad in the north to Karachi in the south. The outage was caused by a large voltage surge in the south of the country that affected the entire network. The system frequency of its National Grid caused a "widespread breakdown" in the power system.
USA – 31 January 2023: On January 31, at least 350,000 people in Texas were left without power as a result of an ice storm where power lines being brought down due to tree limbs and ice loads. Impacted areas included Tulsa, Oklahoma area, Arkansas, Fayetteville, Fort Smith areas, Missouri including Joplin and Springfield.
Texas, USA – 2 February 2023: More than 400,000 homes out of 13 million in Texas were without power, caused by tree limbs that were falling across the state, with many of them hitting power lines and causing power to go out at the local level.
New Zealand – 14 February 2023: Cyclone Gabrielle caused widespread flooding, landslides and huge ocean swells, forcing evacuations in Auckland much of the east coast of the North Island and upper South Island. About 225,000 people were left without electricity,