by Jani Valtari, ABB, Finland
The world is a spot to climb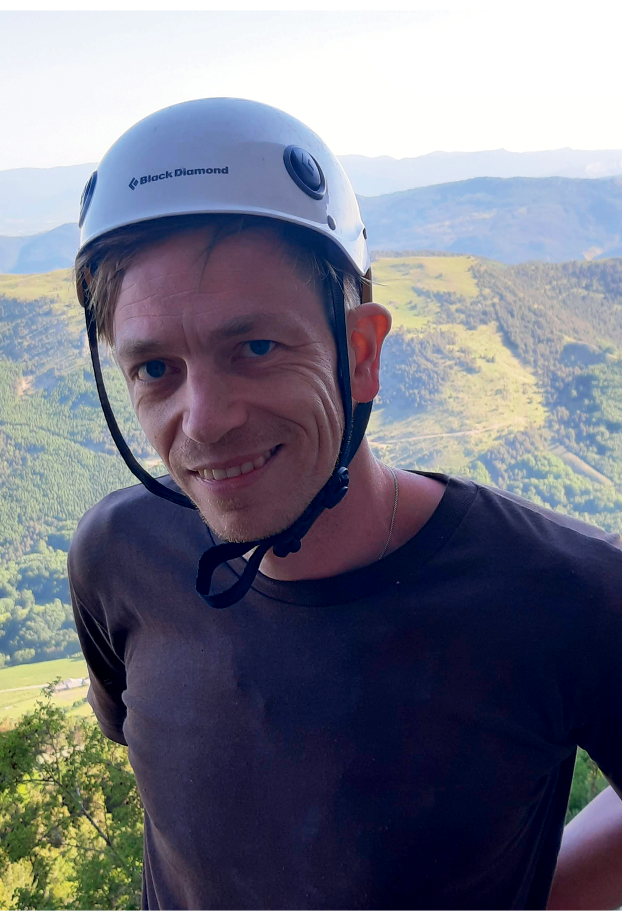 Rock climbing is a hobby where I find good counterbalance to work, and a good way to keep myself in good physical condition. Below, arranged in chapters, I am first introducing the sport on a high level, then describing some aspects why I specifically like climbing. At the end, I want to share a couple of my favorite climbing destinations.
I found the hobby of rock climbing, when I moved as a fresh design engineer to work for ABB in Vaasa, Finland. I arrived in a new town and wanted to find new friends. To achieve that, I decided to start a new hobby. Rock climbing seemed like a reasonable option, so I decided to give it a try. This try was very successful – this dear hobby has stayed with me for over 10 years and it has brought me many good things: better physical fitness, good travel destinations and memories, and some very good friends. And a wife.
Rock Climbing Introduction
Wikipedia defines Rock climbing as a sport in which participants climb up, down or across natural rock formations or artificial rock walls. The goal is to reach the summit of a formation or the endpoint of a pre-defined route without falling. Climbing as a way of transport is ancient but climbing as a hobby and sport is new. There are several different types of climbing; a few that I personally like the most are described below.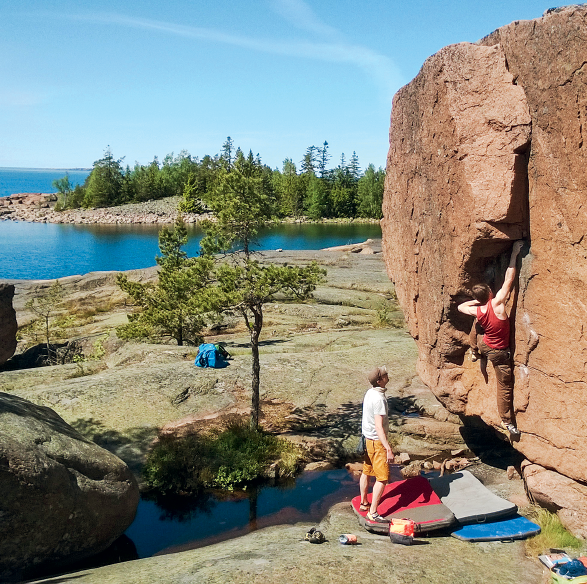 Free Climbing: The most common style of climbing is called free climbing. Free in this context means that no additional equipment is used for climbing – the climber uses only his or her own physical strength and skills to reach the top of the climb. For security purposes, there are different rope systems used that protect the climber when falling. If the route has fixed protection points (bolts) where rope can be attached, the climbing type is called sport climbing.
In case there are no fixed protection points, climbers bring some removable gear called cams, hexes and nuts, and use them to fix the protection point of the rope. This type of climbing is called traditional climbing or trad climbing.
One particular type of free climbing has been in the news lately, where the climber does not use any equipment, not even for protection against falls. This type of climbing is called free soloing and it is the most dangerous style of climbing. It is definitely not the style of climbing for me, but it is mentioned anyhow due to the recent quite popular documentary film 'Free solo' that won an Oscar in 2018.
Bouldering: When routes are short but difficult, the climbing style is called bouldering. The routes are so short that there is no need for protection ropes, even for climbers like me not interested in free soloing. Falling even on short routes may anyhow cause injury, so a cushioned bouldering pad is normally required. You also need someone to watch you when you climb, to 'spot' you, and to direct you to the pad if you fall. Bouldering started as a practice method for longer route climbing, but it has developed into its own specific sport.
What climbing brings to me – Some Interesting Paradoxes
Indoor climbing: Similarly, to bouldering, indoor climbing initially was only meant for training and practicing. It was not considered a sport of its own. But if you check some YouTube videos from IFSC Climbing World Cup events, you notice that this is not the case anymore. The routes that you see in those competitions cannot be found in nature anymore. The competition routes of today are a mixture of climbing, gymnastics and circus – and great fun to watch.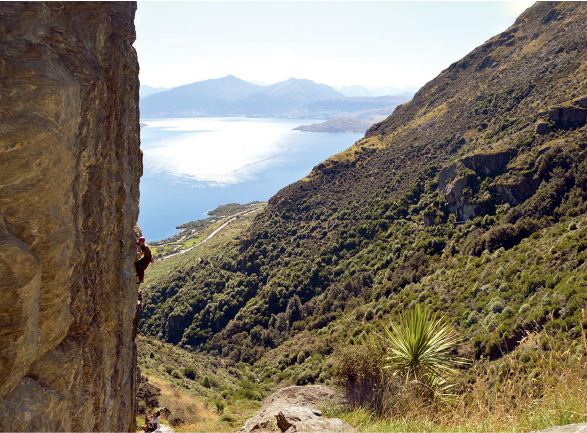 There are multiple reasons, why I think climbing is a good sport and hobby for me. I feel that climbing contains some interesting paradoxes that enrich my life in different ways. And keeps my spirit high and open-minded, which is also important in this innovation-hungry modern work environment.
Relaxing Agitation: Climbing is often considered an extreme sport. It definitely does have some extreme aspects to it, and some difficult routes really make your adrenaline (and sweat) flow. But actually, the opposite of excitement, the relaxation aspect of climbing, is the aspect that I am maybe even more drawn to.
Modern work life and life in general is often very hectic, and very often we find ourselves multitasking and interrupted by various different stimuli. Peace of mind is not easy to find and one modern tool to strive for it is mindfulness – methodology to focus only on the present moment without judgement or worries.
The more you can bring yourself to think about the present, the more you can free your mind and relax your brain from worries. People try to approach this in many ways, some through meditation, other through arts (and some through substances). For me, the perfect method is rock climbing. When you climb a route that is close to your limit, you need to clear your mind and focus fully on what you do.
The difference between passing a route and not passing a route can be very small. It may be dependent on a very subtle change in body position, changing your grip by only a few millimeters, adjusting the position of your foot by a few degrees, timing a dynamic move precisely, or simply making a mental decision of "I can do this." None of this is possible if your mind is distracted.
Social Solitude: Rock climbing is a very individual sport. Your performance is dependent only on your own actions and nobody else's. If you do not manage some route, there is nobody or nothing else to blame (except perhaps weather conditions). Also, the performance can be quite well measured since the routes are generally graded by a specific grading system. You can quite easily measure your performance and development, which, for an engineer, is a definite attraction.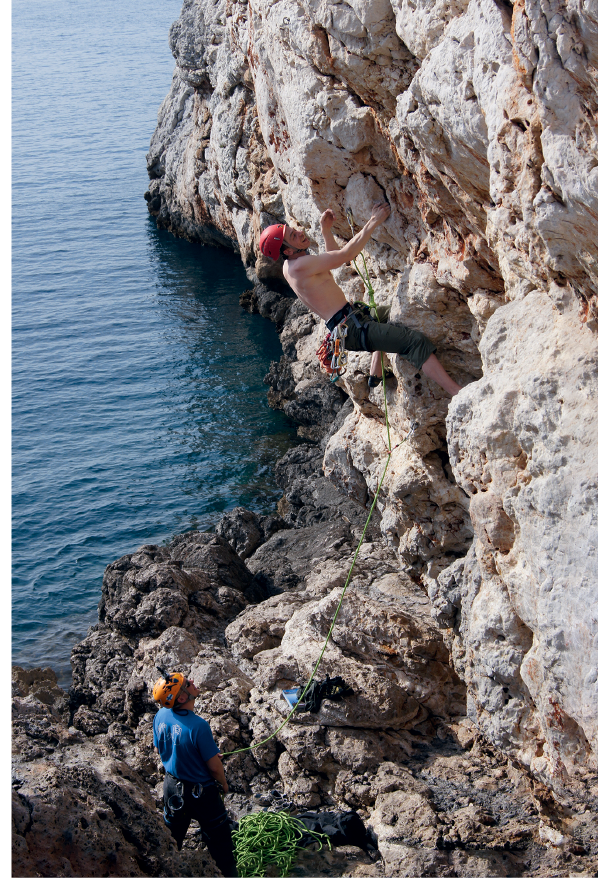 But surprisingly rock climbing is one of the most social sports that I have practiced. When you go rope climbing, you need a partner that you can fully trust. When you climb the same routes, you exchange experiences, and give and receive recommendations for your moves. And since rock climbing is also quite intense, you end up resting quite a lot between tries – and discussing with your partner while you rest.
So, a recipe of a rock climbing trip is actually quite a good recipe for building friendships – a combination of removing all outside worries via intense sports, then having good discussions during moments of rest in beautiful natural landscapes, and eventually recovering over a common dinner. The rock climbing trips I have made around the world have brought me many very good friends and have also led me to get acquainted with a very nice woman who later became my wife.
Modern Primitivity: I work with modern technologies and am very interested in the possibilities the digital era brings to us. To counterbalance that, I really like rock climbing due to the fact that it is actually very primitive in nature. In the basic form, you do not need much equipment for practicing the sport, only shoes. All the rest is dependent on your hands and on your capabilities to use your body. For security purposes, naturally some more equipment is needed like ropes, a harness and a crash pad, but those are only for moments of failing and falling. The main function of moving upwards is done with a very minimal amount of equipment. And aside from indoor halls, everything happens in open unbuilt nature.
When we consider how basic and primitive the act of climbing is for us, it is surprising to realize how new the sport really is. Climbing as a sport began in Finland during the 1950s, and the Finnish Climbing Association was founded as late as 1995. Today the number of amateur climbers in Finland is around 50 000.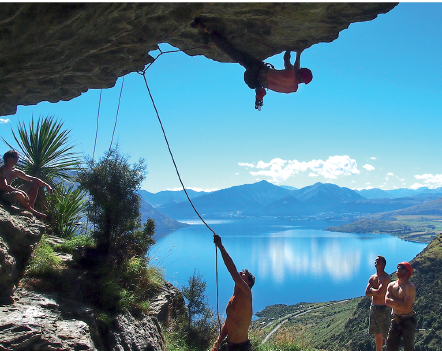 The Summer Olympics in Rio de Janeiro in 2016 contained 28 different sports and 306 different events – rock climbing was not included. In 2020, rock climbing will be included as an Olympic event for the first time at the Tokyo Olympics. The aspect that something as physical and elementary to us humans as climbing has not been considered a serious sport earlier is amazing, and also a part of the charm. As a sport, it is still very much evolving, and not yet anywhere near a point of stability.
Ageless Peaking: I consider myself quite a good climber. I have managed to climb some high graded routes that may look impossible for people who are not so familiar with the sport. But I have met better climbers than me in all possible age groups. Some have been less than 20 years old, and some almost 70. As a sport, rock climbing is very versatile, it is not just about muscles and strength, but very much about techniques, body control and mental aspects.
This means that as a climber you can improve yourself and develop all the time. So far I have been able to improve my climbs every year, and I hope to continue this trend for at least one more decade.
About Climbing Locations and Trips
I used to be quite an active back-packer – eager to travel to different places of the world, to see new places and to meet new people. After I found climbing, most of my free-time trips have been around rock climbing locations. And luckily, sometimes my work-related travels have also brought me near good climbing locations. I will not try to list all of them, given that there are so many.
As the slogan goes – the world is a spot to climb – there are beautiful and excellent rock climbing destinations everywhere. Perhaps someday we will meet at the foot of some nice crag!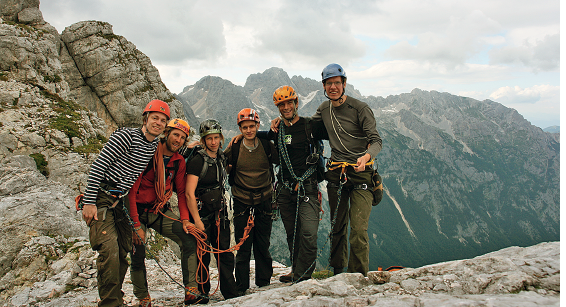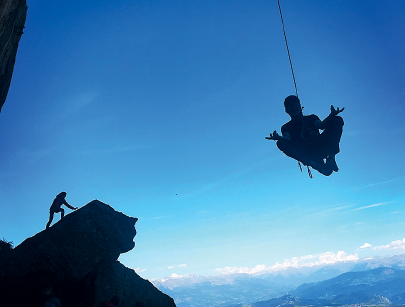 Aland Islands, Finland:
The Aland Islands were my first introduction to boulder climbing, and they have remained an annual tradition. Scenery is beautiful, and the rock is very different from other locations in Finland. For boulder climbing, this is the best place in Finland. The archipelago is a very popular tourist destination in Finland and good for family trips; boats come on a daily basis both from Helsinki and from Turku. There are many rental huts for accommodation, and the island capital of Mariehamn is a nice place to visit during rest days.
Kalymnos, Greece: Kalymnos is an amazing place for sport climbing. Routes are beautiful, and the island is quite peaceful and not at all touristic. You mostly meet locals and other climbers, and the atmosphere is relaxed.
The place is so nice that I even managed to convince my wife that it is a suitable destination for a honeymoon (after I agreed that we would spend the second week in Santorini). During our honeymoon, she did her first-ever multi-pitch route (a route longer than one rope length or pitch) in the nearby island of Telendos. Two-hundred fifty meters upwards is a full day of action. Routes are well protected, because the bolting is good.
Fontainebleau, France: For any serious boulder climber, Fontainebleau in France near Paris is a mandatory destination to visit. The number of different routes is just amazing, and they are easily accessible. Fontainebleau is often described as the birthplace of bouldering, and the culture of the sport is so strong that you see it everywhere. It is a place where you see multi-generational families having picnics next to boulders, and a grandfather teaching a grandchild to climb.
And you might see some world-class climbers practicing nearby.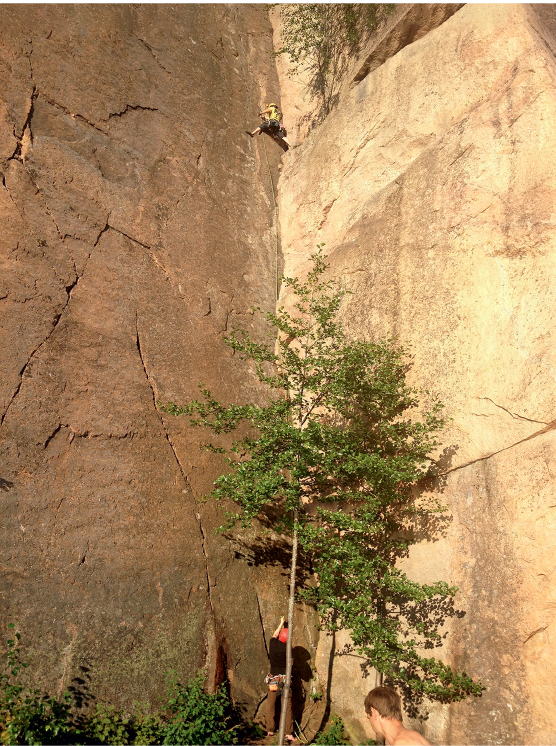 El Chorro, Spain: The best climbing places are often a bit off the beaten track. This also means that you need to plan your trip beforehand in detail – gather a group, arrange rental cars and accommodation, sometimes even bring the food with you. El Chorro is a nice exception to that rule. In a calm village, you find a huge number of routes within a walking distance, a cozy guesthouse at the foot of the cliffs with everything you need. You can even come alone with local transport and will manage just fine.
Niemisel, Sweden: Climbing is generally a good sport for a person who likes to keep environmental impact low. You do not cause CO2 emissions by climbing and spending time in nature. But the weak point is the flying – too many good places are at least one flight away.
Recently I have tried to find good places closer to my home and was really happy to find Niemisel, a gem in Northern Sweden. Lots of difficult routes and never-ending challenges, and again around very beautiful nature.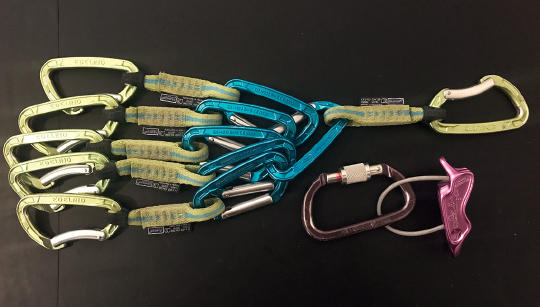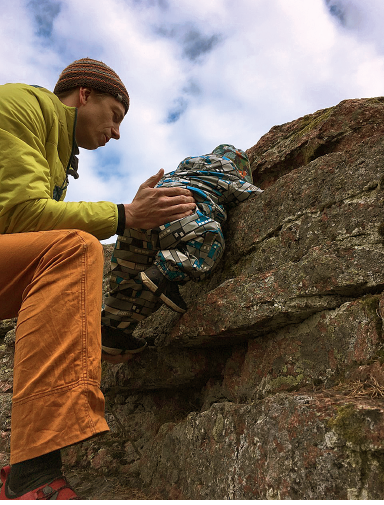 Biography
Jani Valtari is working as a Technology Center Manager for ABB Distribution Solutions in Vaasa, Finland. He has a Doctor of Science degree in Electrical Engineering from Tampere University of Technology. He has held several development, research and management positions in ABB, and within the research community in Finland. He has authored many conference papers and been inventor in international patents. His primary areas of interest are innovations in smart grids and new substation technologies.