Yubo Yuan and Yi Yang, Editors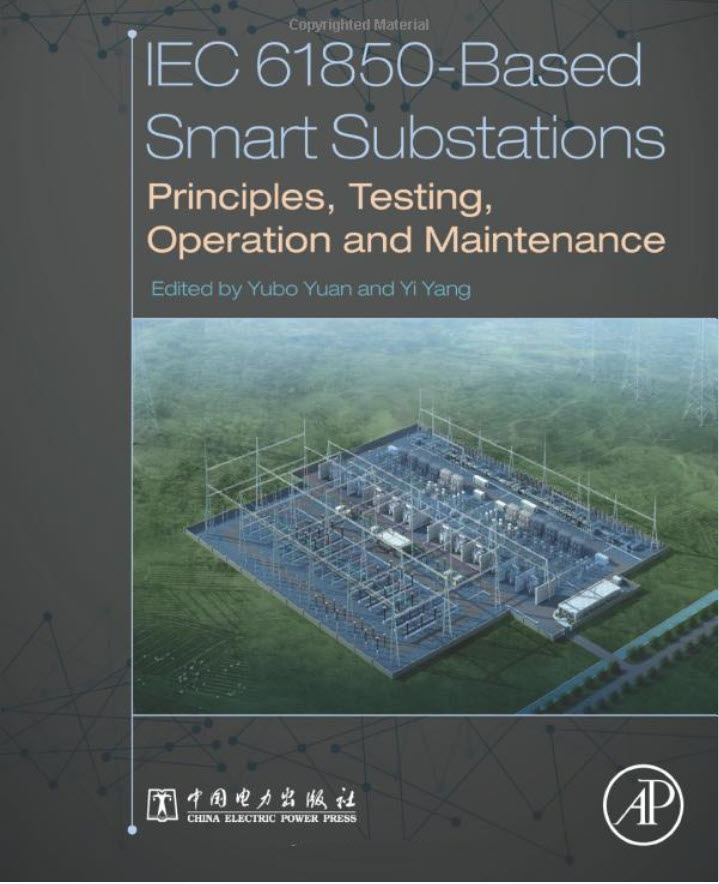 The first edition of the IEC 61850 standard was published more than 15 years ago and the number of substations using technology based on it has been growing since that time. It has been widely accepted in China as the technology to use for all new substations in the country and it has gained significant experience in its application, including in fully digital substations using process bus communications.
This book represents a collection of materials summarizing many of the lessons learned in the development and implementation of the IEC 61850 standard in more than 5000 smart substations in China.
The material in the more than 450 pages book is organized in 10 chapters.
Chapter 1 is an overview of smart substations and covers the basic concepts, characteristics and main technologies of smart substations, as well as their development stages and trends.
Chapter 2 is dedicated to the IEC 61850 standards and configuration technology. It starts with an introduction of IEC 61850 and its key technologies – Object-Oriented design, Abstract Communication Service Interface (ACSI), Manufacture Message Standards (MMS), Generic Object-Oriented Substation Event (GOOSE) model, Sampled Values service, Substation Configuration Language (SCL). It also describes the general configuration process and testing of configuration files.

The next chapter focuses on the principles and test technology of electronic transformers, including both electronic current and voltage transformers, their testing, calibration and application issues. Chapter 4 presents the principle and testing technology of process bus in smart substations. The process layer equipment includes merging units, circuit breaker management intelligent electronic devices and network switches. The process layer communication services in smart substations cover the process layer message structure, priority and VLAN technology, GOOSE and SV services. The process bus of smart substations and test technology of the process layer are also included.
This is followed by a discussion of the station layers in smart substations, their technical characteristics and principles. Analysis of typical station layer messages and the testing technology of station layer systems are included at the end.
Chapter 6 covers time synchronization principles and testing technology in smart substations. It starts with an introduction of the time synchronization method, followed by the definitions in IEEE 1588 Precision Time Protocol technology and its applications and testing.
Chapter 7 describes cybersecurity testing technology based on a cyber physical test bed, allowing to investigate potential cyber security vulnerabilities and the impact cyber-attacks have on digital substations. It also proposes an intrusion detection system for cyber security in IEC 61850 based substations.
The next chapter looks into the intelligent status monitoring systems and describes existing condition monitoring technologies for substation equipment and the future development trends. Chapter 9 describes the operation and maintenance technology for smart substations based on the standard, including physical circuit modeling technology that can be used for advanced applications. It covers both the primary and secondary substation equipment.
The last chapter of the book is dedicated to the next generation of smart substations. It introduces the new technology for primary and secondary systems, communication networks and information flow, as well as the trends towards development and implementation of pre-fabricated secondary equipment systems in order to improve their efficiency.
Each chapter of the book ends with a reference section.
Considering that the book reflects more than 10 years of development and implementation in thousands of IEC 61850 based smart substations, it is a valuable resource that can help protection, automation and control specialists working in this field to learn from the experience in the engineering, testing, operation and maintenance of smart substations and use such knowledge in their existing and future projects.
IEC 61850-Based Smart Substations: Principles, Testing, Operation and Maintenance
Yubo Yuan and Yi Yang, Editors
Academic Press
ISBN 978-0-12-815158-7