The Canadian Protection Symposium was held Virtually 1 – 3 December 2020.
The 5th Annual Canadian Protection Symposium was originally scheduled to take place in Toronto, Canada in December 2020. Due to the continuing global COVID-19 pandemic it had to be (like all other conferences) converted to a live virtual two-day event which took place 1 – 3 December 2020.
The conference was preceded by two optional half-day pre conference tutorials. Participants could attend both tutorials: The IEC 61850 and the Distribution Automation Testing.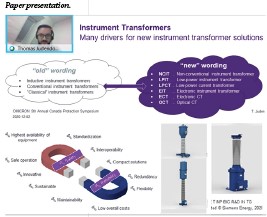 The symposium was opened with a Keynote address by Francis Bradley, the President and Chief Executive Officer of the Canadian Electricity Association (CEA) whose talk was on "The State of the Canadian Utility Industry."
John D. McDonald from GE Grid Solutions was the Keynote speaker on the second day talking about "Big Data, IoT, Enterprise Data Management and the New Data Requirements of Drones and Robotic Inspection Devices."
The symposium program included presentations and discussions on a broad range of topics, such as protection, automation, control, digital substations, IEC 61850, new developments in testing, lessons learned through utility case studies, etc.
Since conferences are a place for people to meet old friends and make new ones, the symposium organizers scheduled at the end of the first day a Virtual Happy Hour which provided an opportunity for participants to share their experiences in this time of physical isolation.