The 12th Australian Protection Symposium was originally scheduled to take place in March 2020, just at the beginning of the global COVID-19 pandemic.
This forced the organizers to urgently reschedule it for 19 – 20 November 2020 at the International Convention Centre Sydney. However, the pandemic was not over by then, so it had to be converted to a virtual event.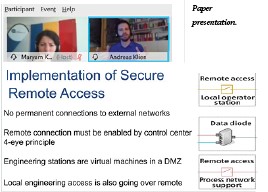 The first-hand experiences from Australia and around the globe were shared through paper presentations, panel discussions and interactive questions and answers sessions encouraging attendees to stay in tune with the latest solutions, innovations, successes and challenges in our industry.
The APS is not limited to sharing only Australian experiences. It brings also participants from all over the world, thus making it a truly international event.
Since its inception the APS has been a truly successful forum with speakers and participants from energy companies, utilities, universities, manufacturers, consultants, service providers and standards committees, as well as those generally involved and interested in the electrical industry, especially in the protection world.
Lately the focus has been shifting to the IEC 61850 and the unanswered questions that may lead to doubt and uncertainty, as well as the changing electric power industry caused by increased interest in renewable energy resources and the challenges of their integration.