Analysis of system power outages can help us learn and avoid similar events in the future. If you have information on any blackouts, please e-mail to: editor@pacw.org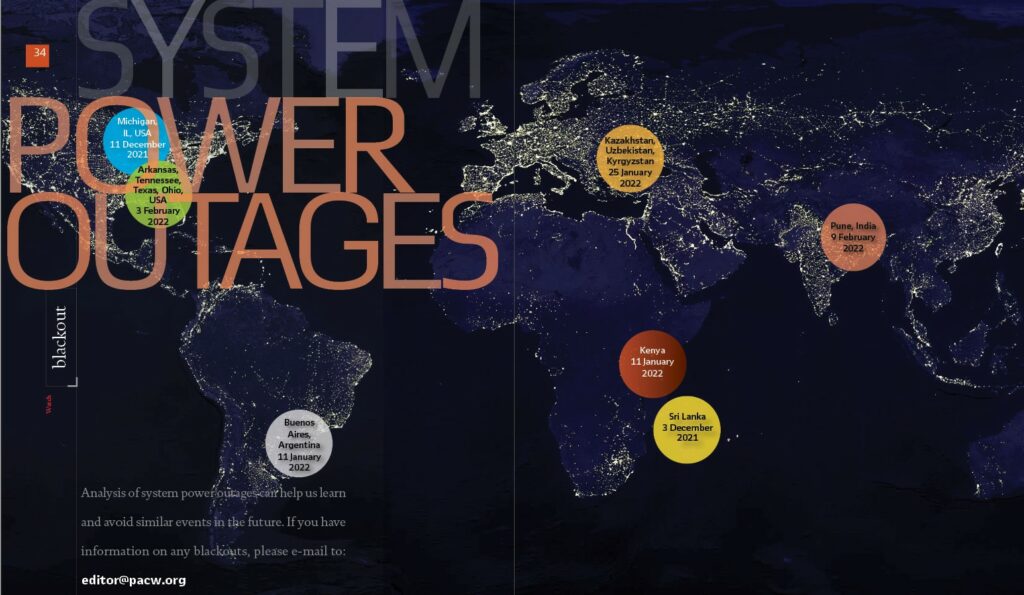 Sri Lanka (December 3, 2021): Sri Lanka suffered a power outage across large parts of the island as state power workers scrambled to get a key transmission line operational. The outage was due to the failure of a key transmission line. There was no information on what caused the transmission line failure.
Michigan, IL, USA (December 11, 2021): Strong winds across Michigan caused tens of thousands of new electrical outages and frustrated efforts to repair widespread damage to power lines from overnight storms. Nearly 50,000 additional outages to homes and businesses were reported by DTE Energy in Detroit and surrounding areas of southeastern Michigan during the day.
Buenos Aires, Argentina (January 11, 2022): Argentina's capital was hit by a major power outage that left thousands of homes without electricity amid a heat wave that has seen temperatures soar above 40 degrees Celsius. The National Electricity Regulatory Entity (ENRE) said Edenor's power cut had affected 700,000 in the Buenos Aires area. Some 43,400 Edesur customers were left without power after failures of high-voltage lines hit two of its substations.
Kenya (January 11, 2022): Kenya suffered its third countrywide power outage in four years, with the entire country plunged into a blackout for almost four hours after a transmission line broke. The disruption was caused by the collapse of towers along a high-voltage transmission line, the country's electricity distributor, Kenya Power, said. It did not say why the towers fell. Power was restored in all parts of the country except three locations in about four hours.
Kazakhstan, Uzbekistan and Kyrgyzstan (January 25, 2022): Millions of people were left without power after a huge blackout hit the three Central Asian countries –– after a major power line was disconnected in Kazakhstan. The capitals of Kyrgyzstan and Uzbekistan as well as Kazakhstan's economic hub Almaty suffered power cuts at around lunchtime, with the blackouts extending far into the provinces of the three countries. The grids of the three ex-Soviet republics are interconnected and linked – via Kazakhstan – to the Russian power grid which they can use to cover unexpected shortages. But Kazakhstan's North-South power line, which links densely populated southern Kazakhstan and its two neighbors to major power stations in northern Kazakhstan and the Russian network, was disconnected on Tuesday morning due to "emergency imbalances" in the Central Asian part of the grid.
Tennessee, Arkansas, Texas, Ohio, USA (February 3, 2022): About 350,000 homes and businesses lost power across the U.S. as freezing rain and snow weighed down tree limbs and encrusted power lines, part of a winter storm that caused a deadly tornado in Alabama, dumped more than a foot of snow in parts of the Midwest and brought rare measurable snowfall and hundreds of power outages to parts of Texas. The highest totals of power outages blamed on icy or downed power lines were concentrated in Tennessee, Arkansas, Texas, and Ohio, but also stretched further from the central U.S. into the South and Northeast.
Pune, India (February 9, 2022): A major fault in the 400 KV transmission lines of Maharashtra State Electricity Transmission Company Limited (MSETCL) at Chakan and Lonikand substations disrupted power supply to the twin cities of Pune and Pimpri Chinchwad in the early hours of Wednesday. It is believed that the faults were caused by a combination of fog and dust particles reducing the insulation.