by Jacek Marek Laszkiewicz, Burnaby-based (BC) companies, Canada
Don't overanalyze it; follow your gut feeling.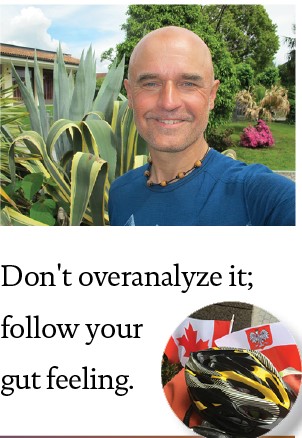 Early Years: Before turning eleven, I spent most of my childhood in hospital beds treated for asthma. I spent long months in the hospitals across Poland seeking treatment among other kids fighting this horrible disease. I remember spending long days and nights sitting in a hospital bed gasping for air and silently crying for help. Nevertheless, I knew that overcoming asthma was my passport to a better life, and only active participation in sports could help. So, until my late teens, I spent several years in competitive judo and karate. Although without any significant nationwide recognition, I finally conquered asthma.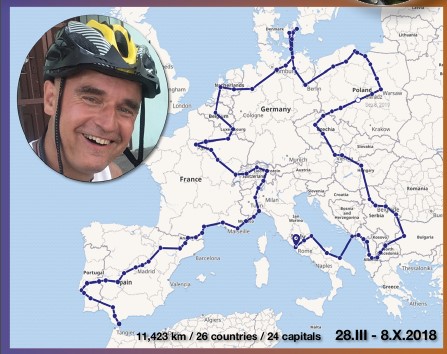 An Idea Became a Goal: The idea of taking a year off from work haunted my unsettled soul for several years. I knew I wanted to disconnect from Vancouver. I needed to leave a daily routine and a predictable tomorrow. I was unsure how to do that, though. It was time for me to evaluate my personal and professional goals. It was late afternoon in January of 2010 when I sat comfortably down on my couch holding a blank piece of paper and a pencil in my hand.
For the next several hours, I spent drafting my future or bucket list, as many call it. It was not an easy task, but eventually, I came out with 55 items-fifty-five items to checkmark before I kick the bucket. Yep, kick the bucket. One day we all will.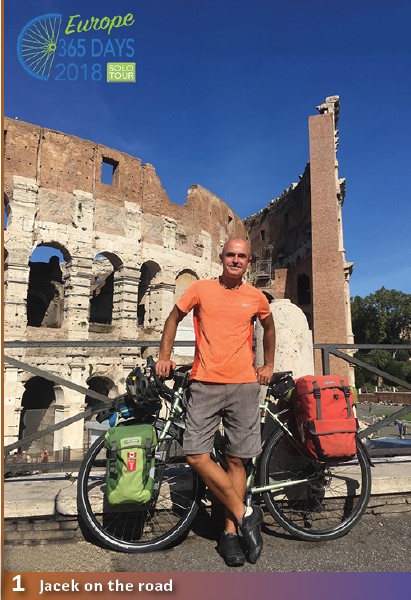 Although travelling destinations dominated the list, a couple of challenges required more than getting an airline ticket and booking a hotel room. One of them was to complete the Authentic Marathon in Greece, and after nearly a year of training, I achieved the unachievable in late 2014. I crossed the finish line at the ancient Panathenaic Stadium in Athens. I was exhausted but proud of myself. After all, I never really liked running. Another physically demanding item on my bucket list was to cycle across Europe. Of course, that required more than 26 miles and a few hours of running. Cycling Europe required planning, gear, money and time, of course. If that by itself was not challenging enough, my younger son Adrian convinced me to apply for Guinness World Record for the Most Consecutive Capital Cities visited by bicycle. It took months of painful, via email, communication to establish the guidelines for this new record. In the end, Guinness informed me that I must visit a minimum of 20 capital cities for the record to count. Also, I was not allowed to stay more than 11 days at any visited locations. I had to meet a few other stringent terms and conditions for the record to count.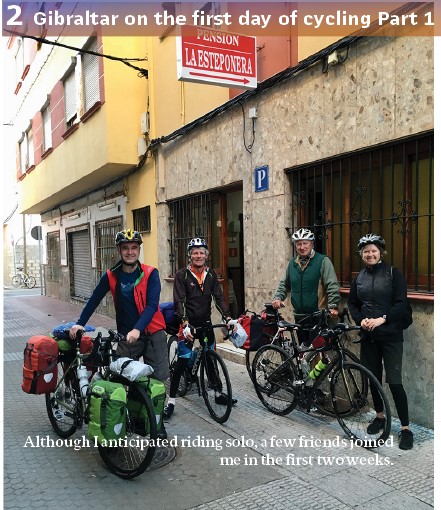 Many Questions and No Answers: It took nearly a year and a half of preparations and, to some extent, training to get ready for the unknown. There were so many variables, and I was uncertain or skeptical about whether I could do it. Firstly, where do I start or end this adventure? How much time and money do I need? Should I consider pairing with anyone on such a long trip? What about safety? No matter how long I spent calculating, estimating, or analyzing every finicky detail, the questions kept on coming. I knew I would miss something, and I accepted that. However, my confidence in my decision kept getting stronger for some reason. I was only sure of one thing: I must do it! Luckily, many of my friends were outdoorsy and well-travelled, who shared my excitement and encouraged my decision. But, of course, few shook their heads in disbelief, asking, "What about your job?"
Gear Selection: It took some time before I invested $1,600 and bought my first steel-frame touring bike – the KONA Sutra. So why steel-frame, not carbon fiber or titanium? What about aluminum? The rationale behind my decision was rather logical. If the bicycle frame gets twisted or cracked along the way, I might be able to fix it at any car workshop. The other alloys are much harder to repair and usually require specialized tools and skills to complete. Selecting the bike was only the beginning of my worries. I needed to find a light but durable tent, panniers (side bags) or proper clothing. My hiking or mountaineering gear was not suitable. It was simply too heavy for this trip. It was a learning process, but eventually, I collected all bits and pieces.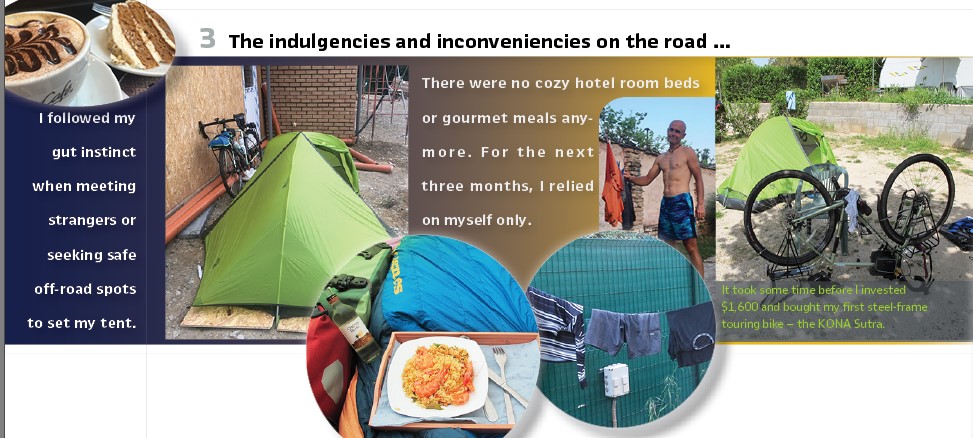 Creating a Brand: There were many spontaneous decisions during the preparations. For example, while browsing the internet one night, I was digitally 'persuaded' (advertisement) to design and eventually order the iCycle 2018 business cards. Was there any need for it? Probably not, but after receiving the package of 500 cards, I was happy with the finished product. It made me feel official. I smirked and said, "Jacek, now you are the owner of an unincorporated business." I must admit the business card was a good conversation opener when meeting strangers. Then, of course, the black T-shirts with a logo were next. I shared a few samples with friends. Last but not least, with the help of my good friend, I created a blog, which was functional to share my cycling adventure.
Mapping/Designing Route: After long considerations, I selected Gibraltar in the southwest of Europe as a starting point for my cycling adventure. I was utterly inexperienced in planning a trip like that, so naturally, I had to make many assumptions and guessing when mapping my route. Ending up in Greece in the middle of summer was not the option. Riding a bike when the temperatures are 40 degrees Celsius above zero didn't appeal to me. Neither winter in Norway did not resonate with me well. It was a pretty stressful and timing consuming process, but everything fell into place in the end. Of course, there was time for humor as well. One of my good mates, Keith, handed me a copy of the African continent map if I got lost cycling in Europe. Oh my, sometimes you've got to think of the friends you have.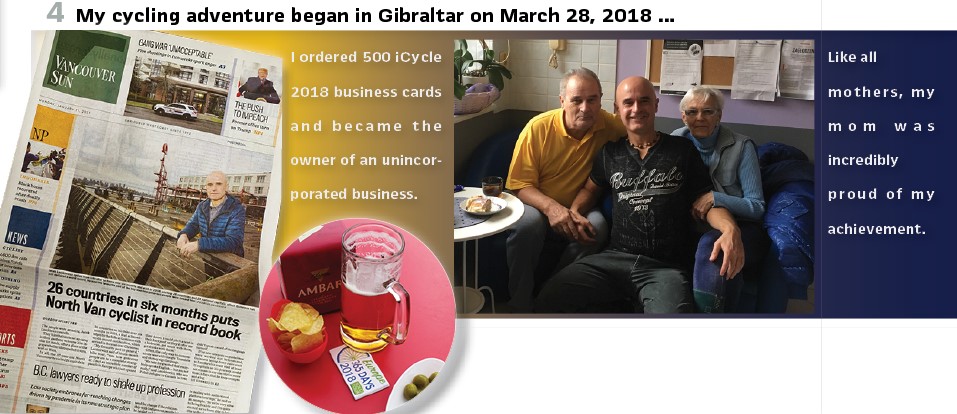 Cycling Part 1: My cycling adventure began in Gibraltar on March 28, 2018. Although I anticipated riding solo, a few friends joined me in the first two weeks. Our mini peloton of six was truly international, with riders from Canada, England, Scotland and me born in Gdansk, Poland. It was a blessing to kickstart this lifetime adventure on a team. I built up confidence riding the Spanish and Portuguese roads during that time. In addition, I learned where and how often to stop allowing my body to regenerate or replace burned carbs. Unfortunately, no matter how much training or experience you have, there is always the possibility of encountering the worst.
On the third day, we witnessed the loss of our dear friend Charlie who joined us from Scotland. His heart stopped in the middle of the Spanish plains, leaving us in tears and disbelief. With our souls shattered, we decided to continue the ride. Three days later, we conquered the first capital city Lisbon. The road to Madrid was nothing but a mix of bad weather and punctured tubes. It was time to lay off from cycling. I left my gear behind, and I boarded a flight to Poland to spend time with my family and friends. After one week, I came back to Madrid to continue my ride. By then, everyone had gone back to their homes in Canada and England. That was the beginning of the solo adventure. There were no cozy hotel room beds or gourmet meals anymore. For the next three months, I relied on myself only. I followed my gut instinct when meeting strangers or seeking safe off-road spots to set my tent up. Starting a day with a cup of instant black coffee and a chocolate bar became my morning routine.
Having a break for a 2000 calories kebab was not concerning me. I burned more than 3000 calories (avg.) daily, and my legs needed enough power to move 96 lbs of heavy gear. My next stop was in Andorra. The astonishing beauty of that small capital took me to Monaco, where the preparation for Formula One was underway. Then a crazy crossing of San Bernardino in the Swiss Alps where I pushed the bike from exhaustion. Then Vaduz in Liechtenstein followed by the Swiss capital of Bern and the champagne routes to Paris. After a few days in Luxembourg, I stopped for a night in Brussels. Then it was time for a pint of refreshing Heineken in Amsterdam and a quick visit to Copenhagen. The Little Mermaid was sitting on the same rock as I remembered twenty years ago. Before I arrived in my hometown Gdansk, I stopped in vibrant Berlin. I love that city! After that, it was time to rest; the first stage was over. It was July 18, 2018; I visited 12 capital cities and cycled more than 7000 kilometers.
Cycling Part 2: I started the second stage of this cycling madness with my dear friends from Vancouver, who decided to join me. After three days of show-and-tell around Gdansk, we hit the roads of Poland. We cycled together for 770 km. Then, they headed back home while I continued through the crazy hills of the Czech Republic, where I eventually stopped for two nights in Prague. Then, Vienna and unplanned three nights in the home of Mozart. Thanks to the Polish cyclist who generously shared his flat with me. Then Bratislava, Budapest, Belgrade, Sofia, Skopje and Tirana. The beautiful landscape of Montenegro took me to Podgorica and through the coastal hills to Dubrovnik, where I stopped for eight nights. After that, it was time to leave, though. It took me another week to cross the Apennine Mountains and finally arrive in Holy City and fanfare-less Rome. My first visit to that ancient capital in 33 years. I spent there eight long days discovering this beautiful city again. At the end, it was time to head back home, that is Gdansk in Poland, where I learned on arrival that my Mom was diagnosed with terminal cancer. The last five months of her life we spent together. Like all mothers, she was incredibly proud of my achievement. One day I will share more stories with her. Overall, I pedaled for 11,432 km, crossing 26 countries and visiting 24 capitals.
Generosity of People: I met so many great and generous souls. There are no words to express my appreciation for all their help during my six months of cycling. They guided me, fed me, sheltered me – some even shared a drink or two with me. They were always there where and when I needed them the most.
Cost of Adventure: Besides my sweat, frustration, sore muscles or few kilograms of fat left behind, there is a more tangible way of measuring the cost. That is a dollar figure. Now, converting ten different currencies to the Canadian dollar comes with a margin of error, which I estimated 2-3%. Also, it was hard to decide how to categorize each expense. In the end, I created the following three categories:
Gear CAD $6,801,
Food & Accommodations CAD $7,778,
Repairs & Service CAD $ 915
I did not include the airfare and bicycle transport costs in any above categories.
Get off Your Anatomy: You are the only one who is in charge of your life. I hope this story will inspire you to take that extra step closer to your dream, whatever that dream is. Don't overanalyze it; follow your gut feeling. A few years from now, you'll be happy you made that decision. I am!
Biography:

Jacek Marek Laszkiewicz was born in Gdansk, Poland, in 1963. He graduated in 1984 with a diploma as an electro-mechanical technician. One year later, during the communist regime, he escaped to Latina, Italy, a refugee camp. After spending almost, a year in Latina, Jacek was accepted into Canada as a government-sponsored refugee. He holds two electrical engineering certificates from ASTT and CTTAM in Canada. Furthermore, Jacek has more than 35 years of experience in the electrical industry. Currently, he holds the position of business development vice president for one of the Vancouver-based (BC) companies. He has two sons, Krystian and Adrian. Back in 2020, Jacek became a grandfather to his first grandson Liam.