by Fred Steinhauser, OMICRON electronics GmbH, Austria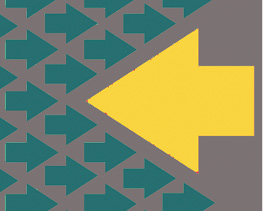 The COVID-19 pandemic gave us a break and forced us to reconsider what we are doing. Will the reflection really turn out into substantial action that prepares us for the future?
For about a year now, our life has been dictated by the effects of the SARS-CoV-2 virus. It is not over yet, but there is reason for hope that the pandemic may end still in this year, at least in the regions that can afford the vaccines.
Luckily for us guys from the exclusive circle reading this magazine, the electric power industry was not as heavily affected as many others. But we also heard the sad news about colleagues from the power engineering community that became victims of the virus.
And we adopted rather quickly to the new situation. We were forced into new ways of online communications. The field of videoconferencing evolved quickly, making progress in a few months that would have taken years otherwise.
We also learned about exceptional people, like the German superstar of virology, Dr. Christian Drosten, to mention just one of them. He explained the matter so competently, but understandable for everyone. Nevertheless, I would gladly waive these new enhancements of my knowledge if there had not been this very reason to make them.
According to a common saying, a crisis brings the best and the worst in us to the surface. And indeed, we have seen both of it.
There were those who were wholeheartedly helping others, although they were risking their own health and life. We should not forget this.
But there was even more ruthless denial and egoism exposed, both on a personal and national scale. One recent example is a debate about the distribution of vaccines, where a country called all vaccines produced in factories on its territory also "the country's vaccines."
On the other hand, the rapid development of the vaccines is a bright example of what we as mankind can achieve if we really pursue a common goal.
So, with the hope that the pressure will go away in a foreseeable time, we might think of what we want to last from what we did during the pandemic. I have a clear favorite: the contactless greeting rituals.
Some years back, on a big trade show, I used the restrooms. To decelerate myself a bit from the pace of the very busy activity at the booth, I took more time than normal for washing my hands. The facilities were super clean and well maintained, so there was really no incentive to rush out as fast as possible.
In the mirror in front of me I could see the toilet cabins behind me and the other users leaving after having done their business. And by watching this coming and going a bit, I made the astonishing discovery that about half of the people left the restrooms without washing their hands.
Then, back on the booth, I met all these visitors coming by. And every time I shook hands with one of them, I asked myself: "is he one of those who did not wash his hands?" As I had just learned, the chance was 50-50. This was when I started hating shaking hands.
This was in fact also a cross cultural experience. There are cultures where contactless greeting rituals are established, most likely for good reasons. How disgusting must it be for people used to such contactless greeting rituals to shake hands with "westerners" just for being polite to them?
But I also fear this will all be forgotten as soon as we have the chance to get back into the treadmill of the business as usual.
Please prove me that I'm wrong.
Biography:

Fred Steinhauser studied Electrical Engineering at the Vienna University of Technology, where he obtained his diploma in 1986 and received a Dr. of Technical Sciences in 1991. He joined OMICRON and worked on several aspects of testing power system protection. Since 2000 he worked as a product manager with a focus on power utility communication. Since 2014 he is active within the Power Utility Communication business of OMICRON, focusing on Digital Substations and serving as an IEC 61850 expert. Fred is a member of WG10 in the TC57 of the IEC and contributes to IEC 61850. He is one of the main authors of the UCA Implementation Guideline for Sampled Values (9-2LE). Within TC95, he contributes to IEC 61850 related topics. As a member of CIGRÉ he is active within the scope of SC D2 and SC B5. He also contributed to the synchrophasor standards IEEE C37.118.1 and IEEE C37.118.2.