IEC 61850 Global took place 14 – 18 October 2019 in London, United Kingdom.
This year the conference program was extended to a full week. It was preceded by a one-day workshop on the fundamentals of IEC 61850. This was followed by three days of presentations mostly focused on utility experiences from different IEC 61850 based multi-vendor projects, discussions on interoperability issues and the importance of the engineering process, the evolution of digital substations, maintenance and testing of IEC 61850 based systems.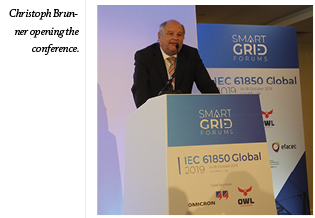 Different case studies from around the world covered various aspects of the implementation of the standard, while at the same time providing a global perspective on the issues.
The Roundtable discussions at the end of the first day were an opportunity for the participants to address in an interactive way some key issues related to the application of the standard and to share their conclusions at the end.
The conference program also included panel discussions related to global implementation and interoperability.
A Networking Reception was an ideal opportunity to relax with all participants after an intensive day of presentations and discussions.