System Power Outages
Analysis of system power outages can help us learn and avoid similar events in the future. If you have information on any blackouts, please e-mail to: editor@pacw.org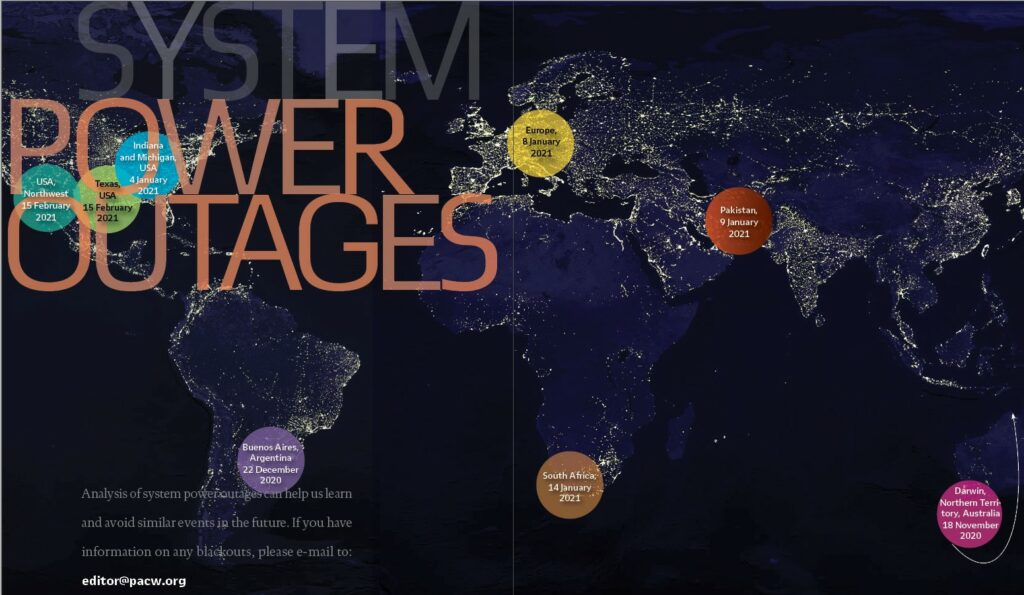 Darwin, Northern Territory, Australia (November 18, 2020): Large parts of the Top End lost power because of a problem with the generator on Channel Island, forcing hospitals onto emergency back-up power and triggering major traffic problems at peak hour. Shortly after 4:00pm, Power and Water Corporation said its crews were responding to widespread power outages affecting Darwin and the surrounding areas. The problem stemmed from a gas supply issue at Channel Island.
Buenos Aires, Argentina (December 22, 2020): A huge power cut in the Argentine capital Buenos Aires caused a blackout to hundreds of thousands of homes and businesses and brought metro lines to a standstill. Power company Edesur said about one million people in the south-central area of the city were affected. The outage was traced back to a fire at a substation.
Indiana and Michigan, USA (January 4, 2021): Crews continued to work to restore electricity to some areas in Indiana and southwestern Michigan that were hit over the weekend by freezing rain and snow About 100 spans of electrical wires were down and dozens of utility poles were damaged or broken. About 50 thousand Indiana Michigan Power customers were affected by the outages.
Europe (January 8, 2021): On 8 January 2021, a power supply failure that is suspected to have originated in Romania disrupted the Continental Europe Synchronous Area. Its frequency dropped to 48.75 Hz (target frequency 50Hz), which caused the South-East area to be separated from the rest of the grid. This disruption and a lack of operating reserves in France nearly caused a Europe-wide blackout. Luckily, the automatic activation of power stations throughout Europe and the automatic initiation of contracted load shedding in Italy (1000 MW) and France (1300 MW) kept the grid stable and prevented a blackout. This incident shows the fragility of the grid and the real possibility of a Europe-wide blackout, which we need to prevent.
Pakistan (January 9, 2021): A breakdown in Pakistan's national power grid plunged the country of 212 million people into darkness on Saturday night due to a "technical fault" at the Guddu power plant located in southern Pakistan's Sindh province. The blackout was triggered by a sudden drop in the frequency of the power transmission system followed by the cascading loss of 10,320 MW of generation.
South Africa (January 14, 2021): South Africa's electricity utility provider Eskom started on 14 January 2021 Stage-2 load shedding which consists of drawing down up to 2,000 MW of electricity from the power grid, leading to power supply cuts in the impacted area six times over a four-day period for two hours at a time, or six times over an eight-day period for four hours at a time.
USA Northwest (February 15, 2021): A winter storm that blanketed the Pacific Northwest with hundreds of thousands of people in Oregon in the dark after heavy snow and ice brought down tree branches this weekend and blocked storm drains in Washington state and Idaho, raising concerns about flooding. Nearly 5,000 distribution lines spans were brought down by ice and tree limbs and multiple transmission lines were severely damaged by the storm that swept through.
Texas, USA (February 15, 2021): Officials with the Electric Reliability Council of Texas (ERCOT), said Texas was dangerously close to a worst-case scenario: uncontrolled blackouts across the state. The quick decision that grid operators made in the early hours of Monday morning to had load as natural gas fired plants, utility scale wind power and coal plants tripped offline due to the extreme cold brought by the winter storm, the amount of power supplied to the grid to be distributed across the state fell rapidly. At the same time, demand was increasing as consumers and businesses turned up the heat and stayed inside to avoid the weather. At a certain time more than 4.5 million customers were without power due to the loss of about half of the generating capacity of the state.