System Power Outages
Analysis of system power outages can help us learn and avoid similar events in the future. If you have information on any blackouts, please e-mail to: editor@pacw.org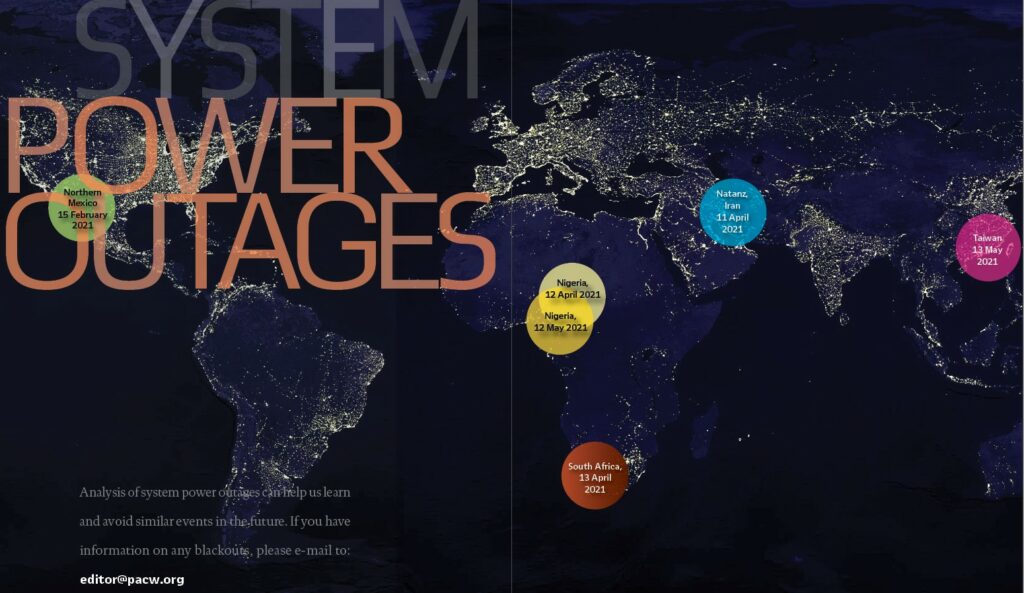 Northern Mexico: A cold snap knocked out power for 4.7 million users in northern Mexico early on 15 February 2021, triggering a scramble by authorities to restore service and bring in extra fuel. The Mexican national electricity grid operator CENACE said that the outage hit about 6,950 megawatts of load, urging people in the states of Chihuahua, Coahuila, Durango, Nuevo Leon, Sinaloa, Sonora and Tamaulipas to curb power usage.
Natanz, Iran: A power failure that appeared to have been caused by a deliberately planned explosion struck Iran's Natanz uranium enrichment site on Sunday, 11 April 2021 in what Iranian officials called an act of sabotage. The causes of the accident are under investigation and further information will be announced later.
Nigeria: Nigeria suffered an extensive power outage in April because 18 plants accounting for most of the electricity the country generates had faced operational problems. Eight plants suffered a "breakdown" while one underwent an annual maintenance. Seven other integrated power plants were experiencing gas constraints while one hydroelectric power plant has water management issue. For years, Nigeria has only generated an average of 4,000 megawatts for a population of 200 million.
South Africa: Due to a shortage of generation capacity, Stage 2 load-shedding was implemented for 8 hours. The return to service of a generation unit each at the Kriel, Medupi and the Duvha power stations was delayed, while another three generation units tripped during the day, reducing available generation capacity. A generation unit each at the Tutuka and Kendal Power Stations tripped while a single Komati unit was forced down. There were 4775 MW on planned maintenance, while another 12699 MW of capacity was unavailable due to breakdowns and delays.
Nigeria: The Transmission Company of Nigeria (TCN) said on 12 May 2021 that the country's national grid experienced a breakdown. There was a total system collapse of the grid, as a result of voltage collapse at some of its parts. TCN commenced grid recovery immediately after the collapse, from Shiroro Generating Station to Katampe TS, Abuja through the Shiroro – Katampe line and also through Delta Generating Station to Benin Transmission Substation and has reached Osogbo and parts of Lagos.
Taiwan: Around 4 million homes were affected on the island of 24 million people after an outage at Taipower's Hsinta Power Plant – a coal- and gas-fired facility at Kaohsiun in southern Taiwan which tripped after an equipment failure at a substation. Tech powerhouse Taiwan resumed power early in the evening on Thursday following several hours of phased blackouts island-wide, a problem that briefly impacted major semiconductor firm TSMC. Starting 3 p.m. local time, the supply of electricity on the island of 24 million people was restricted to 2 million households, with rolling blackouts, as repairs began.