Analysis of system power outages can help us learn and avoid similar events in the future. If you have information on any blackouts, please e-mail to: editor@pacw.org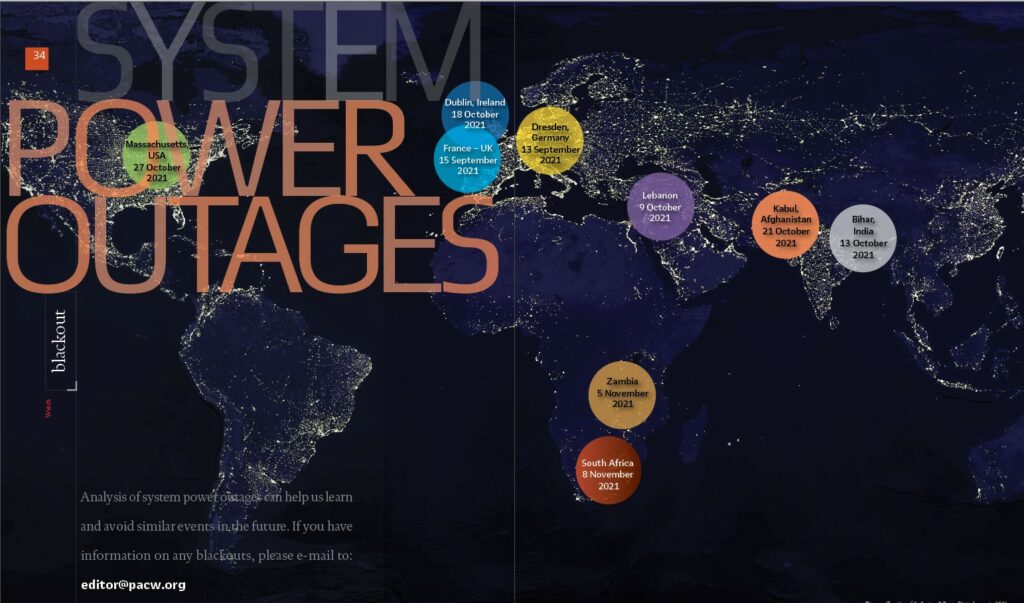 Dresden, Germany (September 13, 2021): The power went out at around 1:35 p.m. in numerous parts of the city when there was a fault in a substation in the south of Dresden. A small metal foil balloon caused a short-circuit, causing a power outage that affected hospitals, trams, factories, and about 300,000 households. Dozens of people were trapped in elevators until power was restored about an hour later.
France – UK (September 15, 2021): A major fire forced the shutdown of one of Britain's most important subsea power cables (IFA1) capable of importing 2 GW of electricity from France to the UK at a time when it faced a supply crunch and record high market prices. Half of its capacity, or one gigawatt (GW) of power, is expected to remain unavailable until late March 2022.
Lebanon (October 9, 2021): Lebanon was plunged into darkness after a power outage that lasted for 24 hours. The al Zahrani and the Deir Ammar power stations stopped working after supplies of diesel were exhausted and energy production dropped to below 200MW.
Bihar, India (October 13, 2021): Many districts were facing more than 10 hours of power outage for several days as the electricity generation was hit due to coal shortage in the country. Bihar required 6,5 GW electricity but the state government managed to get only 4,7 GW.
Dublin, Ireland (October 18, 2021): More than 15,000 homes in north Dublin were struck by a major power outage, according to ESB Networks. The outage occurred just after 6pm in areas including Clontarf, Drumcondra, Fairview, and East Wall and was due to an ESB fault.
Kabul, Afghanistan (October 21, 2021): An explosion that destroyed a transmission tower in the Qala Murad Beg area of Kabul province disrupted the electricity supply to Kabul and multiple other provinces. Details regarding the nature of the explosion were unclear. Diplomatic missions, government buildings, upscale hotels and restaurants, larger companies, and airports that generally rely on private generators were not directly affected by the power outage; however, smaller businesses were forced to shut down.
Massachusetts, USA (October 27, 2021): A storm that battered the Atlantic coast with hurricane-force wind gusts left more than a half-million homes and businesses without power in New England and forced the closure of bridges, ferries and schools in the region.
The Massachusetts Emergency Management Agency reported about 425,000 power outages after powerful winds blew tree branches laden with wet, heavy leaves onto power lines. Utilities reported about 90,000 customers without power in Rhode Island, 17,000 in Maine, 15,000 in Connecticut and 6,000 in New Hampshire.
Zambia (November 5, 2021): Zambia suffered a major power outage affecting most parts of the country on Friday after loss of generation at Kariba North Bank hydropower station. Residents in the capital Lusaka, as well as Kitwe and Ndola in the copper belt.
South Africa (November 8, 2021): Eskom increased the period of so-called load shedding from 2 to 7 hours per day for the period from Monday until Friday, when they were expected to be brought back down to around two hours. It means homes and businesses across the country had to do without power for three periods a day, each lasting two-and-a-half hours. The company blamed the latest move on a "major incident" in Zambia that affected power supply from the Cahora Bassa lake