Analysis of system power outages can help us learn and avoid similar events in the future. If you have information on any blackouts, please e-mail to: editor@pacw.org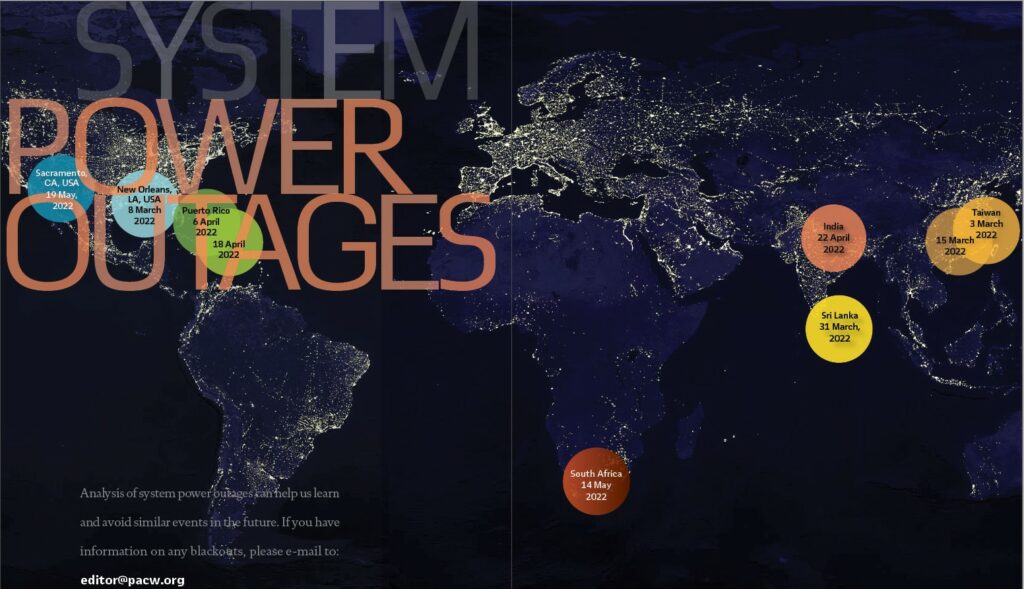 Taiwan – 3 March 2022: An incident with a transformer at the Xingda power plant in the southern city of Kaohsiung resulted in widespread power failures across Taiwan including the capital Taipei and affected around five million households in the country.
New Orleans, LA, USA: Close to ten thousand of electricity customers in and around New Orleans' central business district were without power on Wednesday. A preliminary investigation indicated that an animal or a bird caused a short circuit that damaged equipment and led to the outage. No further details were provided.
Taiwan -15 March 2022: Over 4,000 households in Taiwan region's New Taipei city and Kaohsiung city were hit by power outages on Tuesday. The major power outage in New Taipei city was caused by underground cable failure, while the power cut in Kaohsiung city was caused by an accident at a power substation where repairs were underway.
Sri Lanka: Power cuts of up to 13 hours in some areas in Sri Lanka were the result of severe foreign exchange shortages, lack of fuel and power deficits in the dry season.
Puerto Rico – 6 April 2022: An unspecified failure led to a fire at a power plant outside the town of Guayanilla on the southwest coast around 8:45 p.m. Wednesday April 6, cutting power across Puerto Rico, Firefighters extinguished flames that affected two substations at the plant, The massive island-wide blackout might have been "caused by a circuit breaker failure at the Costa Sur plant.
Puerto Rico – 18 April: More than 180,000 customers across the region were without electricity as a springtime snowstorm moved through New York and other states.
India is facing its worst electricity shortage in more than six years. The shortage in coal reserves at thermal power stations is triggering blackouts in states like Maharashtra, Karnataka, Punjab, Uttar Pradesh and Andhra Pradesh. The crisis is also set to hit national capital Delhi.
South Africa: South African state power utility Eskom resumed power cuts from 5 pm to 10 pm due to loss of some generation capacity. Stage 2 loadshedding was implemented during the week.
Sacramento, CA, USA: A power outage in Sacramento on Thursday left much of the city's downtown area in the dark. Utility crews worked to replace a transformer and the outage delayed California's legislator's session