Analysis of system power outages can help us learn and avoid similar events in the future. If you have information on any blackouts, please e-mail to: editor@pacw.org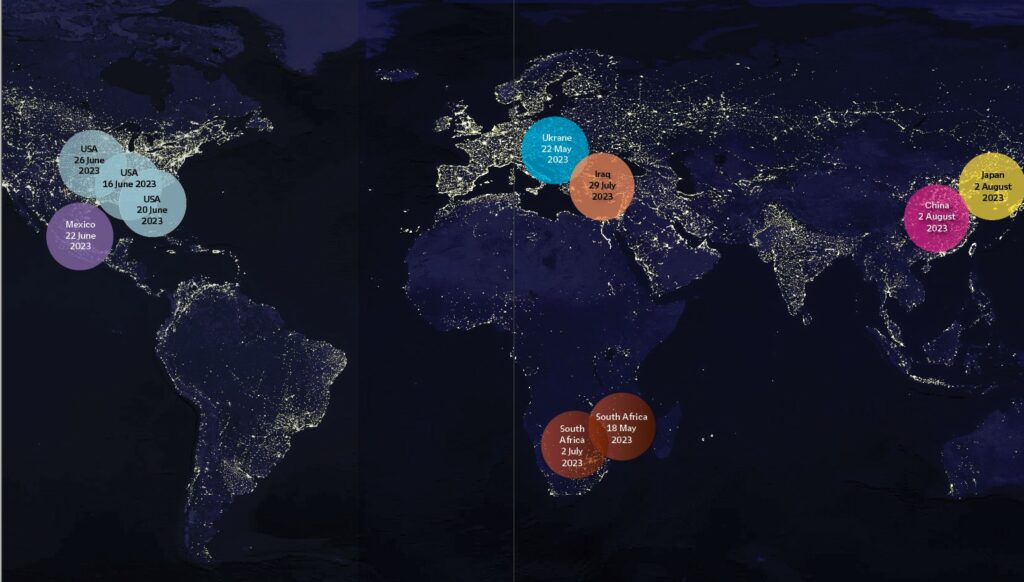 South Africa – 18 May 2023: To avoid blackout, many households and businesses are already facing scheduled electricity outages of more than 10 hours a day, largely due to breakdowns in Eskom's ailing fleet of coal power stations. Eskom has not yet gone beyond "Stage 6" power cuts, which require 6,000 megawatts to be shed from the national grid. This winter it may move to "Stage 8", which would require up to 8,000 megawatts to be shed, translating to 16 hours of outages in a 32-hour cycle.
Ukraine – 22 May 2023: There was a power outage at the Zaporizhzhia Nuclear Plant, this is the seventh blackout since march 2022.
There was a fire at one of the facilities in Zaporizhzhia city due to an overload in the power system.
Mexico – 22 June 2023: Soaring temperatures in Mexico are driving record electricity consumption that has prompted the country's energy authority to issue a rare alert over grid capacity, as the government played down reports of blackouts.
Local media reported incidents of blackouts in 12 states over the last two weeks. In Michoacan state, one town had been without electricity for several days, after an energy transmitter exploded.
South Africa – 2 July 2023: South Africa is closer to ending daily power cuts as warmer weather returns. South Africa is on course to see its most blackout days in history this year with daily power cuts extending to almost 10 hours a day, affecting businesses and households. The capacity available is plateauing around 29,000 MW, giving enough room to bring the power cuts down from Stage 6 to Stage 3, where 3,000 MW are taken off the grid, leading to between two and fours hours of daily power cuts, in the space of six weeks are already.
USA – 16 June 2023: Around 664,000 homes and businesses along the U.S. Gulf Coast from Texas to Florida were without power after severe storms battered the region overnight. Many roads were blocked by downed trees that took down power lines.
USA – 20 June 2023: A dangerous heat wave had helped spawn deadly tornadoes in Texas and Florida and threatened to bring more extreme weather to the USA South. A tornado hit central Mississippi and left about 400,000 customers across the U.S. South without power including about 45,000 in Mississippi.
USA – 26 June 2023: About half a million customers faced power outages due to tornadoes and thunderstorms that hit the USA Midwest and South. The tornado damaged dozens of homes.
Iraq – 29 July 2023: Fire at the Al-Bkir substation in Basra resulted in the separation of transmission lines linking the southern and central regions of Iraq, leading to a complete shutdown of the electrical system in the area. Power was cut off in large swaths of southern and central Iraq for much of Saturday during scorching summer heat. The power outage came as the electrical system faces other challenges, including fuel shortages and surging demands for electricity during a major heat wave.
Japan – 2 August 2023: High winds hit power lines in Japan's popular tourist destination Okinawa, knocking out electricity to more than 200,000 households, as powerful and slow-moving Typhoon Khanun neared the country's southwestern islands. Nearly 700,000 people were advised to evacuate. Some locations in Okinawa logged wind gusts of nearly 200 kph (124 mph) and had more than 250mm of rain in the past 24 hourse.
China – 2 August 2023: Typhoon Doksuri caused flooding of Zhuozhou city with over 600,000 residents southwest of Beijing. Authorities declared a state of emergency as rainfall averaged 355 mm (14 inches) the heaviest since at least July 2012. More than 134,000 Zhuozhou residents were affected, with over one-sixth of the city's population evacuated. The city faced water shortages and a partial power outage water rose as high as four meters (13 ft)