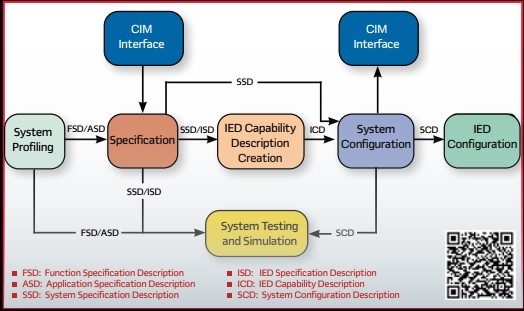 The IEC 61850 digital substation initiates a significant transition for large utilities with a high level of standardization. This transition can be a complex exercise, as users have developed their own engineering processes to suit the needs of copper-wired systems. As a result, many current IEC 61850 engineering implementations are private developments that are device-driven and labor-intensive.
To address this challenge, IEC TC57 working group WG10 has identified a series of needs to evolve to a harmonized, market-supported, user-requirement-driven top-down process.
To implement these requirements, WG10 has initiated the development of two technical reports: IEC 61850-90-30 (Function Modeling in SCL) and IEC 61850-7-6 ed2.0 (Basic Application Profiles in SCL), both of which are sched-uled for publication in 2023. These reports result in the creation of a SCL extension namespace, 6-100.
This top-down IEC 61850 engineering process enables users to:
Create function and application templates in machine-readable SCL format, specifying the desired data model, dataflow, and physical allocation of functions, which allows for automated implementation during system configuration
Interact formally with IED suppliers by providing them with IED and system specifications in SCL format, receiving IED capability descriptions, and documenting how the IED supplier has mapped the provided specification to the device
Exchange data with external standardized format databases like CIM, allowing an efficient interaction with other corporate databases
Validate and test the output of the engineering process by enabling testing and simulation tools to simulate the system from the early specification stage
To promote the implementation and market support of this process, French TSO RTE and Belgian TSO Elia launched a common initiative in summer 2022, which resulted in the recognition and support of this process by 14 major utilities and users.
A poster was created to communicate the aligned vision and was published on the website: https://innovation.eliagroup.eu/projects/iec61850-engineering-process-common-vision/
This poster describes all phases of the top-down IEC 61850 engineering process, benefits for projects actors, and provides recommendations to users, tool developers, and IED suppliers. The poster has received positive feed-back from the market, with many tools and IED suppliers expressing their interest in supporting it in their roadmaps.
More support from other users is welcome and would help to further spread the message. For questions regarding this statement or how to support it, please contact thomas.sterckx@elia-engineering.com.
For additional details on the process, please refer to the link provided in this article