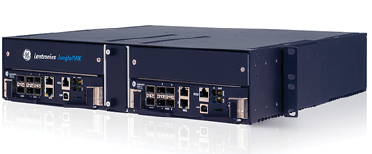 GE's Lentronics™ JunglePAX is a purpose-built communications solution specifically designed for utility operations, providing the required security and dependability through layers of redundancy.
The platform is based on MPLS-TP (Multi-protocol Label Switching with Transport Profile) technology, that maintains deterministic performance through packet-based communications to provide utilities with increased efficiency and ease of integration.
The Lentronics JunglePAX platform employs an optimized version of MPLS-TP, which offers a converged communications platform to reliably add/drop and transport 64 kbps, T1/E1 and Ethernet service across an optical Wide-Area Network (WAN).
With a flexible mix of WAN connectivity, access options, and hardware redundancy on critical modules and control functions, the JunglePAX provides utilities a cost-effective, streamlined solution to protect utility assets and improve system reliability.