Analysis of system power outages can help us learn and avoid similar events in the future. If you have information on any blackouts, please e-mail to: editor@pacw.org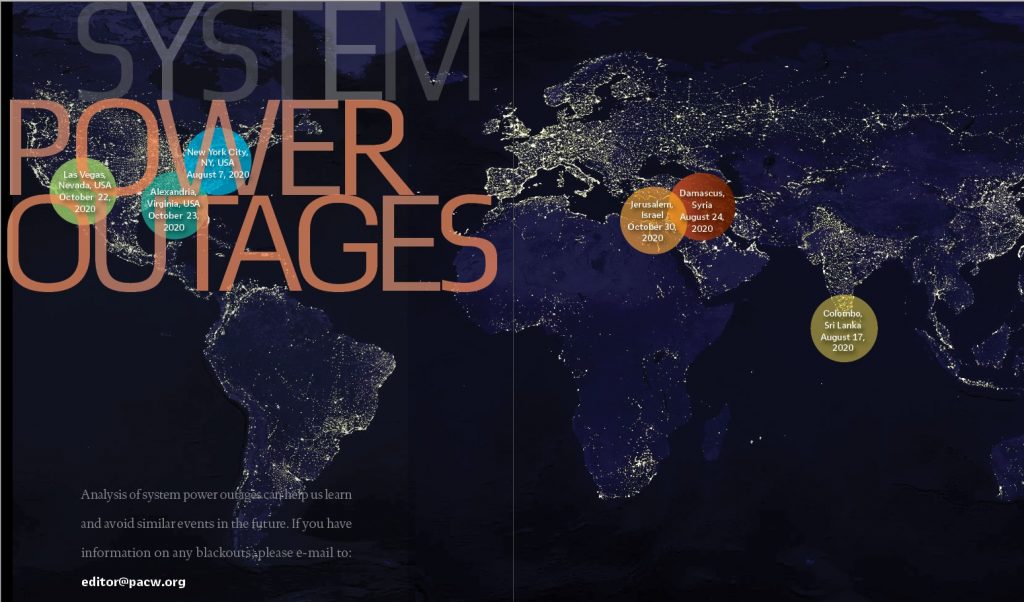 New York City, NY, USA (7 August 2020): Large parts of Manhattan fell dark shortly after 5 a.m. on 7 August 2020. Con Edison said a problem on their transmission system caused three networks to lose their electricity supply. Over 180,000 customers were without power for nearly 5 hours before their service was restored. The cause of the outage wasn't immediately known, but later the Mayor indicated a lightning strike was to blame.
Colombo, Sri Lanka (17 August 2020): The nation of Sri Lanka suffered a massive blackout when their main power station suffered a technical issue. All 21 million residents lost power around midday and did not see it return for seven hours. The country's water supply was also affected because there was no electricity to power the pumps. The state-run Ceylon Electricity Board blamed a transmission failure, however many residents and even members of Parliament blamed the outage on sabotage.
Damascus, Syria (24 August 2020): A suspected attack on the Arab Gas Pipeline outside the capital city caused a nationwide blackout shortly after midnight. The nation's 17 million residents were without power for several hours as workers scrambled to repair the damaged pipeline, which pumps 7 million cubic meters of natural gas to power stations. Syria's oil and gas infrastructure has been hit numerous times in recent years by acts of sabotage, but no one has yet claimed responsibility for the attacks.
Las Vegas, Nevada, USA (22 October 2020): The bright lights and famed tower of the Paris Las Vegas Hotel & Casino went completely dark for 2 hours in the evening. Casino players and hotel guests were guided out of the property using flashlights and cell phones, with at least one reporting they smelled what they suspected was an electrical fire. NV Energy later said the outage was caused by rodents that damaged a transfer switch located off-property but managed to knock out the power for an extended period of time.
Alexandria, Virginia, USA (23 October 2020): A power outage struck the areas of Alexandria & Arlington on Friday night, with over 15,000 customers losing power around 8 p.m. Many of those affected saw their power return after 20 minutes, however, the remainder had to wait nearly five hours for it to be restored. According to local provider Dominion, the cause of the outage was a malfunctioning circuit at a local substation.
Jerusalem, Israel (30 October 2020): Power outages were reported across large swaths of Israel beginning at 1 a.m. Up to 3 million residents were affected after an imbalance in the transmission system caused a power station in the south to go offline, creating a chain reaction that spread to other areas. Israel Electric Corporation later said a short on a key line that caused a malfunction in power production units may have been the result of moisture.