System Power Outages – Reports on the blackouts around the world in the last three months.
by Troy Linkugel, USA
Analysis of system power outages can help us learn and avoid similar events in the future. If you have information on any blackouts, please e-mail to: editor@pacw.org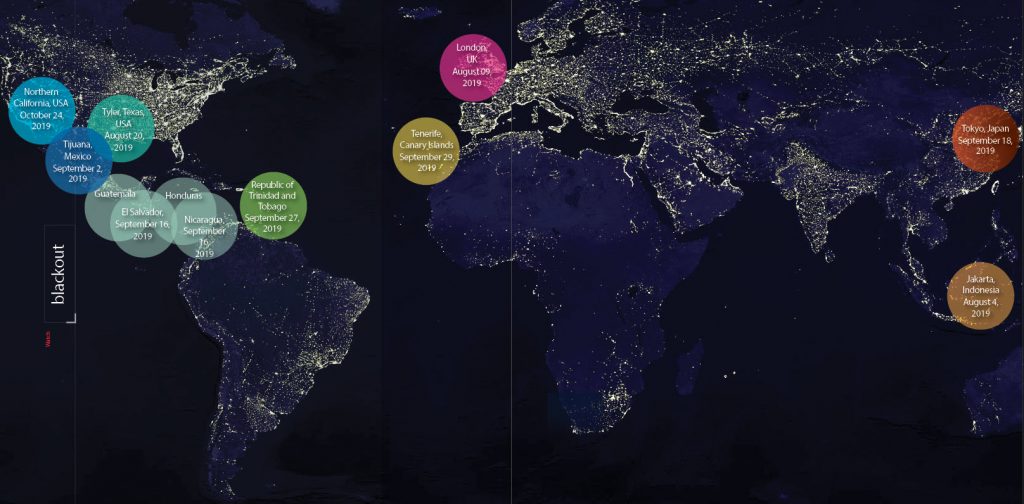 Jakarta, Indonesia (August 4, 2019): A major blackout hit most areas of the Indonesian capital and some neighboring provinces just two days after a 6.9 magnitude quake struck the island. The country's state electricity company PLN said the outage began at 11:50 am local time and lasted roughly nine hours. They blamed the outage on problems at several power stations on the island of Java. Local media estimated the number of people affected at more than 30 million.
London, United Kingdom (August 09, 2019): A major power outage struck during rush hour in London and large sections of England and Wales. Around 500,000 homes and businesses were believed to be affected by the blackout, which lasted over an hour in most areas. Operators of the National Grid stated a gas-fired power station in Bedfordshire went down and, two minutes later the Hornsea offshore wind farm disconnected from the grid. This sequence led the system to cut off power in parts of the country in order to preserve the rest.
Tyler, Texas, USA (August 20, 2019): Nearly 85,000 customers were affected by a major outage caused by an overload on a section of the power grid. Power provider SWEPCO stated the cause was vegetation coming into contact with two high-voltage power lines. The first line made contact after vegetation had grown into the line and the other is believed to have sagged into vegetation growing below it due to heat and excessive rain.
Tijuana, Mexico (September 2, 2019): Most of the city, along with parts of Ensenada and Rosarito suffered a major power outage that lasted nearly six hours. The Federal Electricity Commission (CFE) claimed the blackout was due to a technical failure in two generation units at the Mexicali Combined Cycle Power Plant, which prompted officials to suspend energy to the area to maintain the stability of the National Electric System.
El Salvador, Honduras, Nicaragua and Guatemala (September 16, 2019): A major power outage hit Central America, with at least со4 countriesѕ affected. Nicaragua and Honduras were the hardest hit and were without power for just over an hour. Electricity operator EOR in El Salvador stated the outage was due to a technical failure in the 230 kV supply line that connects Honduras and Nicaragua.
Tokyo, Japan (September 18, 2019): TEPCO confirmed at least 45,000 customers were still without electricity 12 days after Typhoon Faxai slammed through the region. After the record-setting winds broke snapped cables and topple power poles, the initial power outage was estimated to affect nearly one million homes. Japan is particularly susceptible to this type of blackout due to the fact that the majority of their power lines are above ground.
Republic of Trinidad and Tobago (September 27, 2019): An island-wide power outage occurred at about 5:30 pm, affecting all 60,000 residents and tourists. The problem is believed to have originated at Cove Eco-Industrial and Business Park, where an alarm went off and machines went down prior to the outage. The cause of the alarm was still being investigated. The outage was especially worrisome to locals, as Tropical Storm Karen recently passed and the island was finally getting back to normal.
Tenerife, Canary Islands (September 29, 2019): An island-wide blackout struck the capital of the Canary Islands archipelago in the evening. Emergency generators were activated to maintain basic services; however, the island's 900,000 residents and tens of thousands of tourists were left in the dark for roughly six hours. No cause for the disruption has yet been identified.
Northern California, USA (October 24, 2019): Pacific Gas & Electric Co (PG&E) staged several blackouts designed to prevent catastrophic wildfires as dangerously windy weather swept through the state. The precautionary blackouts that affected half a million people in Northern California alone are designed to keep winds that could gust to 97km/h or more from knocking branches into power lines and sparking wildfires. Electrical equipment has been blamed for several fires in recent years that killed scores of people and burned thousands of homes.