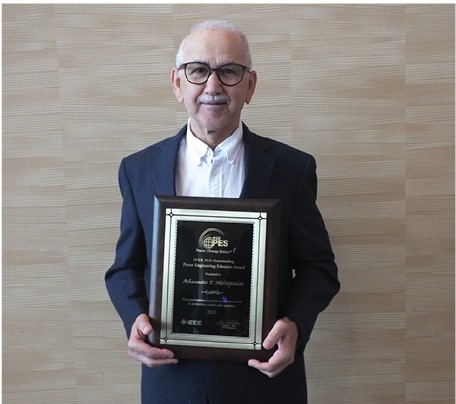 This award is presented to recognize outstanding contributions and leadership in power engineering education. The 2023 Recipient is Prof. Dr. Athanasios (Sakis) Meliopoulos "For contributions to power system education in protection, control and operation."
He joined the Georgia Tech ECE faculty in 1976 where he is presently the Georgia Power Distinguished professor.
He is actively involved in education and research in power systems with emphasis on protection and control, safety and electromagnetic compatibility of electric power installations, cyber security and the application of new technologies in these areas. Since 1999 he is the Georgia Tech Site Director of PSERC, an NSF I/URC, associate director of the Georgia Tech Institute for Information Security and Privacy (2016-2019).
He is IEEE Fellow since 1993 and was PAC World Guru in March 2017.