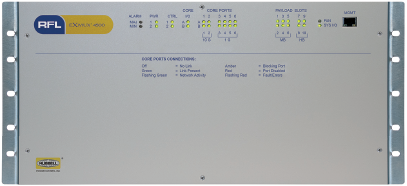 The eXmux® 4500 Multi-Service Access & Transport (MSAT) platform is designed and engineered to address the challenges of network migration and infrastructure upgrades for power utilities. The solution bridges the gap between legacy and modern technologies and provides utilities with the confidence to move forward and leave nothing behind.
Whether it's reliability and security, IT/OT convergence, or "drag and drop" configuration, the eXmux 4500 delivers a solution to an industry-wide dilemma, and addresses the various technology, knowledge and IT/OT convergence gaps.
Key features included 10-Gig Carrier Ethernet/MPLS-TP, redundant controller and low latency with less than 3 ms circuit propagation delay.