New RELY-TSN-LAB Testing Tool
In July 2021, RELYUM is launching RELY-TSN-LAB 21.1, a new release of its successful TSN Testing Tool, that incorporates the latest features of RELYUM's product range.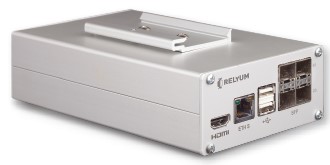 RELY-TSN-LAB benefits from being a highly cost-effective testing tool, that covers the need of measuring one of the most important parameters in critical networks: latency.
This user-friendly tool allows to retrieve an accurate measure of this valuable parameter, which is needed to validate TSN technology in the most demanding use cases.
As a novelty, this testing tool is also available in other versions supporting the different profiles defined in the standard IEEE 1588 (PTP): Power profile, Telecom Profile, 802.1AS, etc.