In the IEC 61850 community, the UCA International Users Group (UCAIug) is best known for providing test lab accreditation and conformance test result certification for IEC 61850. However, the scope and objective of UCAIug goes well beyond IEC 61850.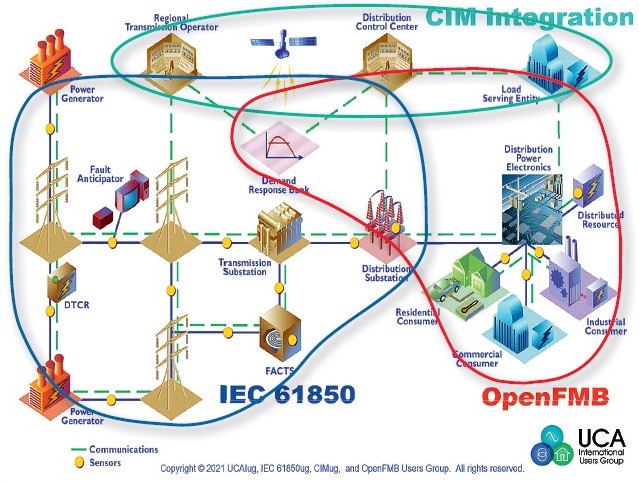 UCAIug is a non-profit that is an umbrella organization for three complementary users groups that represent foundational technologies used in the digital transformation of the electric utility industry:
The Common Information Model (CIM), IEC 61850, and Open Field Message Bus (OpenFMB). CIM and IEC 61850 are IEC standards dealing with information and communication of that information across the entire electric utility enterprise.
OpenFMB is a North American energy standard utilizing relevant information model artifacts of CIM and IEC 61850 to provide secure grid-edge communication capability.
As the umbrella organization, UCAIug provides a collaborative environment that allows members to:
Discuss relevant issues and to avail themselves of a help desk
Participate and have their concerns tested as part of Interoperability, Conformance, and plug-fest testing
Have access to Intellectual Property granted to UCAIug, such as Unified Modeling Language (UML) data models, test files for data exchange and communication, free tools, object models, use-cases, and other open-source artifacts for CIM and OpenFMB
UCAIug is committed to providing services to its members and the industry at large. An example is the recent staging of redmine.ucaiug.org that allows the industry a view of the issues/discussions of the IEC 61850 Users Feedback Taskforce and conformance testing issues for the user groups.
Contact UCAIug to become involved in the upcoming IEC 61850 IOP, OpenFMB plugfest, or membership:
Membership Contact is Margaret Goodirch: margaret@ucaiug.org
IEC 61850 2021-2022 IOP contact is Herbert Falk: herb@ucaiug.org
OpenFMB co-chairs contact: openfmb-admin@openfmb.org