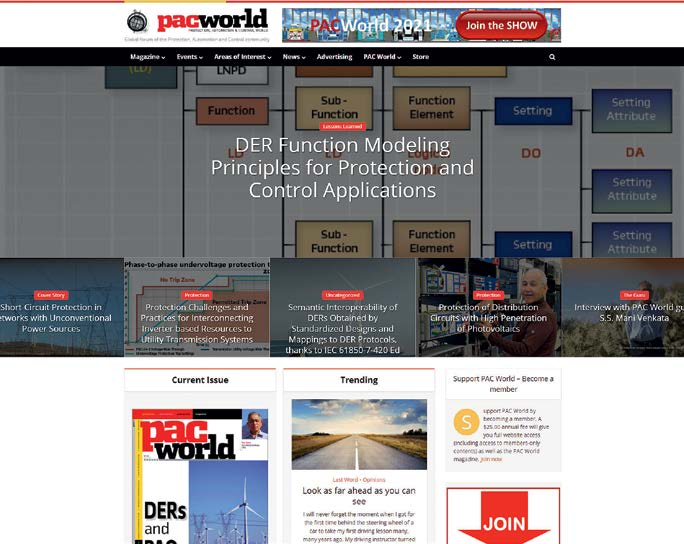 The idea for establishing a magazine dedicated to the protection, automation and control industry was born more than 15 years ago in the early spring of 2006 and was the brainchild of Rainer Aberer – the founder of OMICRON electronics – who thought that there is a need for a place where members of our industry can discuss the challenges that it is facing and the accomplishments in meeting them. And this is how the PAC World magazine was born. It took about a year to develop the concept of the content of the magazine, publish the first issue and set up the website.
15 years is a long time in the rapidly developing web-based technology world, so it was time to build a new website in order to meet the increased cyber security requirements and the changing expectations of our readers.
It took about a year of analysis of the web development tools, discussions on the concept of the new website and developing its structure and layout. It has been almost a year now since the new website went live. Based on this experience we can say that it has a much more modern look and feel, we believe it is easier to navigate and find what you're looking for. There are also new features that we didn't have in the old version.
The core of the website is obviously the content related to the materials published in the last issue of the magazine. When you go to the home page you will see the cover story and the key articles that were in the latest published issue of the magazine. If you are interested in a specific topic you can find it on the main page by clicking on a graphic to go into your area of interest.
Considering that the knowledge contained in the more than fifty issues that have been already published we decided to make available as web pages the articles from the last three years with an option to download individual articles as PDF files for the people that are subscribers of the magazine. At the same time to give access to the content of the earlier issues of the magazine we have made all of them available as flippable files that you can go through and read the articles of interest.
There is a lot more you can do such as find information for upcoming industry events, submit your best pictures for the photo contest or even do some shopping in the web store.
You can visit the website at: https://www.pacw.org/