by Troy Linkugel, USA
Analysis of system power outages can help us learn and avoid similar events in the future. If you have information on any blackouts, please e-mail to: editor@pacw.org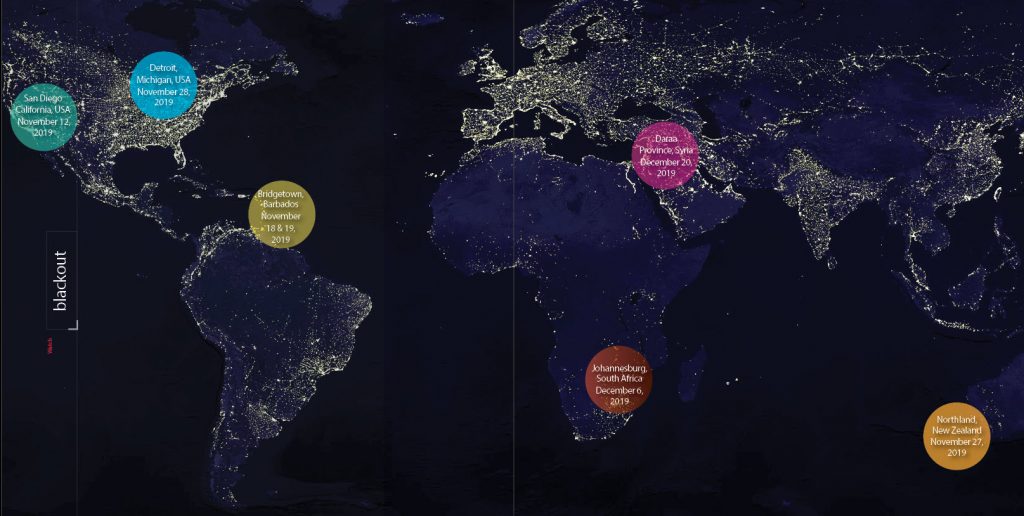 San Diego, California, USA (November 12, 2019): A small blackout struck a section of San Diego when a bird came into contact with a substation. More than 24,000 saw their electricity cut around noon that day, and did not have it return for at least 8 hours. Several local schools were affected, with children using their smart phone flashlights to continue classes.
Bridgetown, Barbados (November 18-19, 2019): The island was hit with major power outages on back to back days. The Barbados Light & Power Company (BL&P), suffered an engine failure that originally knocked out power to most of the island. Power was restored for about 50% of customers by midnight the same day, only for it to be interrupted again in the morning. Prime Minister Mottley called it "unacceptable and embarrassing" that the country could lose "all of its generating capacity" at once. Barbados rarely experiences such severe power outages, apart from when tropical storms cause widespread damage.
Detroit, Michigan, USA (November 28, 2019): An awkward loss of power occurred at the beginning of the halftime show at a Thanksgiving Day football game between the Chicago Bears & Detroit Lions. The field went dark as a country music duo began their first song. A statement by Ford Field said it was "due to an outside utility failure" and any delay in restoring power was due to the time it takes to reset the sound system transmitter. The game had 65,000 in attendance and was being watched on television by 27 million viewers.
Johannesburg, South Africa (December 6, 2019): Heavy rains began to flood the power stations and disrupted coal-fired electricity generation, the worst power outages in a decade swept through the country. Over the course of a week, State-owned utility Eskom could only meet 80% of the country's energy demand after nearly a quarter of its generation capacity had failed. Eskom also stated that "Load shedding is a responsible act and highly controlled process, implemented to protect the country from a national blackout."
Northland, New Zealand (November 27, 2019): A major blackout hit large parts of New Zealand's North Island. It started at 9.35am and left at least 72,000 customers without electricity. Transpower, who manages the country's high voltage transmission network, said a fault occurred at a tower in an area where large water birds live. The towers often provide an ideal space for them to perch, and the birds' excrement can eventually interfere with the equipment.
Daraa Province, Syria (December 20, 2019): Power outages have become regular in this part of Syria, as electricity rationing measures take place every three hours. The GCE states it would have the capacity to supply 24-hour electricity if it were not for the high loads in the province of Daraa. Declining living standards here have forced residents to use electricity as an alternative for obtaining warmth, cooking and water heating. Syria's production of electricity reaches 3800 MW, while it consumes 5500 MW, leaving a current deficit of 1700 megawatts.
Biography