Analysis of system power outages can help us learn and avoid similar events in the future. If you have information on any blackouts, please e-mail to: editor@pacw.org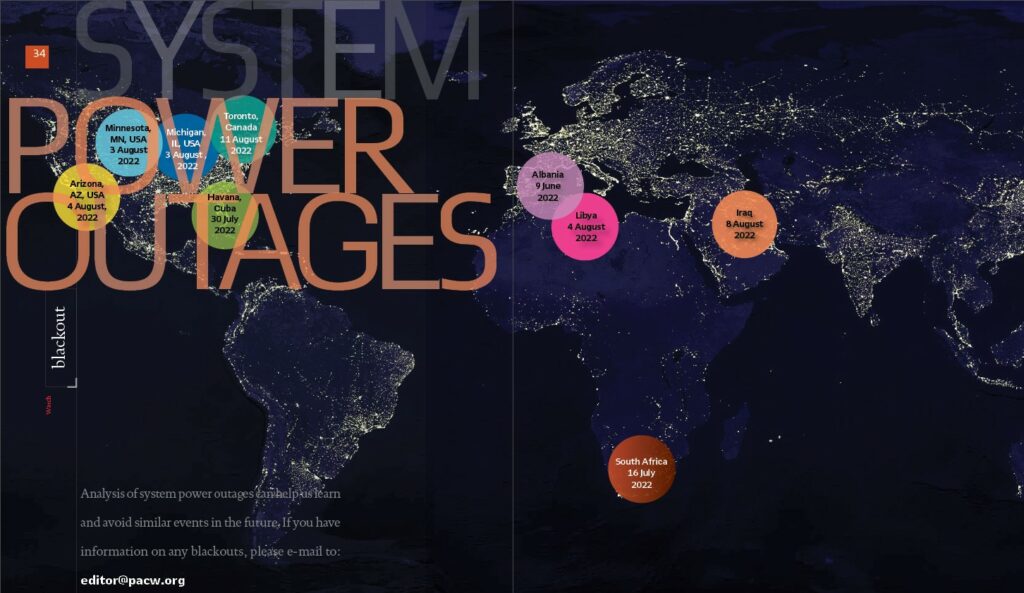 Albania, 9 June 2022: Lightning storms in Albania flooded cities and also caused power outages in the country and the capital Tirana.
South Africa – 16 July 2022: Rolling power cuts, including so-called "Stage 6" load shedding leaving most South Africans without power for at least six hours a day are expected to come to an end as more power generation units come online. The risk is significantly diminished once unit 2 of the Koeberg nuclear power station comes back onto the grid, providing about 920 MW of power.
Havana, Cuba – 30 July 2022: Electricity blackouts in the Cuban capital of Havana in August resulted in a canceled carnival and are part of other measures taken to address the country's worsening energy crisis. The capital, home to a fifth of the population of 11.2 million and center of economic activity in Cuba, had been spared the daily power outages of four or more hours that the rest of the island has endured for months.
Michigan, IL, USA – 3 August, 2022: Severe thunderstorms left more than 100,000 customers across Michigan without power, utilities reported Wednesday. Consumers Energy's power outage map showed more than 79,000 customers were affected while the DTE Energy website showed more than 22,000 outages. The outages followed high winds and rain as storms swept across much of Michigan's Lower Peninsula. Damage reports included downed power lines and fallen trees.
Minnesota, MN, USA – 3 August 2022: A line of severe storms that swept across Minnesota and Wisconsin caused widespread damage to trees, poles and power lines and knocked out electrical service to 135,000 customers. The largest power outages were west of the Twin Cities in Minnesota.
Arizona, AZ, USA – 4 August 2022: Monsoon thunderstorms dropped more than a half inch of rain on much of metro Phoenix on Thursday morning, causing power outages and delaying dozens of flights out of Sky Harbor International Airport. Southwest Airlines workers said lightning struck a generator, causing a server to go down and delay dozens of the carrier's flights for several hours.
Libya – 4 August 2022: The people of Libya are enduring electricity cuts of up to 18 hours a day, despite their country sitting atop Africa's largest proven oil reserves. Political infighting has restricted production at key oil facilities in recent months to pressure Dbeibah to transfer power to Bashagha. The blockade has also reduced the amount of fuel available for power stations, exacerbating electricity shortages.
Iraq – 8 August 2022: Demonstrators blocked roads as protests broke out in southern Iraq on Monday after power outages left many without electricity during scorching peak summer heat. Temperatures reached 50 degrees Celsius (122 degrees Fahrenheit), nearly matching last year's record high.
Toronto, Canada – 11 August 2022: An outage in downtown Toronto on Thursday was caused by a barge moving a crane that hit three high-voltage transmission lines causing damage to equipment at a power station. This left the offices of Canada's top businesses in the dark, forced the evacuation of one of the city's biggest shopping malls and trapped people in elevators.