System Power Outages
Analysis of system power outages can help us learn and avoid similar events in the future. If you have information on any blackouts, please e-mail to: editor@pacw.org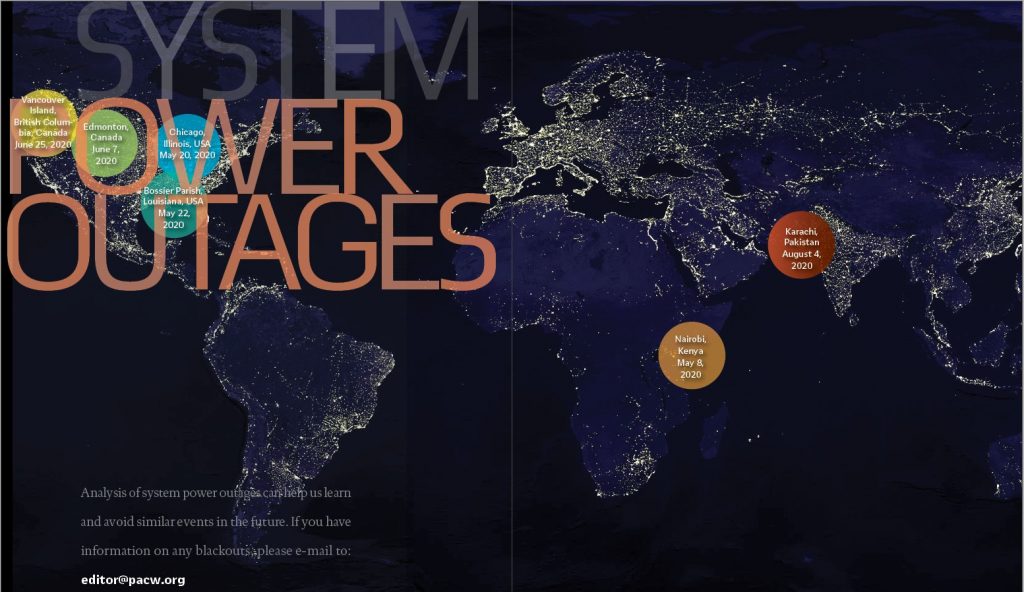 Nairobi, Kenya (May 8,2020): Vast areas of Kenya and Uganda were hit by a major blackout. Kenya Power said the outage on its grid, which services 7 million customers, was due to a fault on a high voltage line. Their engineers identified a fault on a section that transmits power from the Olkaria geothermal power plants, some 75 km to Nairobi. This led to an overload at other power generator and since the two East African countries' grids are interconnected, Uganda also suffered a widespread loss of power.
Chicago, Illinois, USA (May 20, 2020): The famed Sears Tower in downtown Chicago suffered a complete power outage. With 110 floors and a height of 1,450 feet, the 2nd tallest skyscraper in the U.S. went completely dark after above average rainfall caused flooding in the area that made its way into the building's basement. The outage lasted several days, meaning the building was closed to the 15,000 who work there.
Bossier Parish, Louisiana, USA (May 22, 2020): A major outage hit the area just outside of Shreveport shortly before 6 a.m. The outage affected over 21,000 residents and lasted just over an hour. SWEPCO stated the cause was due to the failure of a lightning arrester, which protects substations from power surges by diverting abnormally high voltage to the ground.
Edmonton, Canada (June 7, 2020): A widespread blackout swept across the province of Alberta in the afternoon, with more than 75,000 customers impacted. Several local system operators were affected, with one stating the outage was due to a "weather related issue," while another provider stated their outage was due to a loss of tie in the line from British Columbia.
Vancouver Island, British Columbia, Canada (June 25, 2020): An outage hit southern Vancouver Island in the evening after a sub-station failure. According to BC Hydro, over 15,000 customers lost power shortly after 5 p.m.
Karachi, Pakistan (August 4, 2020): A technical Fault at Bin Qasim Power Plant caused a massive blackout across the city of 15 million just after 9 a.m. With an electricity shortfall reaching 780 MWs, residents had to deal with load management in addition to the 3 to 5 hours of power outages regularly experienced at night. Some areas did not see power return for over 10 hours.